The First High School of Changsha,Hunan
Editor:Sharon Lee
Source:
Updated: 2006-6-9 9:24:13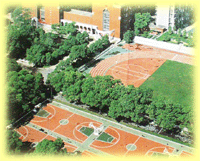 Dating from 1912, the First High School of Changsha, Hunan has been the earliest state-owned middle school in the province. The present name that the First High School of Hunan Province was officially issued in 1952.As one of the national key high schools, it is directly subordinated with the titles of Provincial Education Department and has been honoured with the titles of Provincial Civilized Unit, National Key School of Sports Reserve Talent Training, Provincial Advanced Unit of Moral Education.
Our school has been well-known for its convergence of noted teachers, rigorous management and people of talent coming forth in large numbers. We take Fair-mindedness, Bravery, Diligence and Plainness as our school standard to urge all of our teachers and students to reinforce their self-cultivation of morality and learning . During the last century, many outstanding talents, such as Mao Zedong, Zhu Rongji, Zhou Gucheng, Zhou Libo, Tan Dun and 15 members of the National Academy of Science and the National Academy of Engineering, including Meng Shaolong, and Cao Yong, once studied here. There are 88 classes and more than 5,000 students in the school at present. Teachers here are all of high qualities, of whom over 40% have been given senior professional posts and 48% are below 35 years of age . During recent years, 20 of them have been awarded the title of Middle School Special-class Teacher.
All along these years, we take ¡° Gearing to Modernization, Gearing to the World, Gearing to the Future¡± as our consistent guiding principle and headed by ¡°Moral Education, Devoted to Teaching, Led by Teaching Research and Quality First¡± as our aim. On school-running, we have featured Quality plus Personality, Standard plus Innovation. The effective combination of education, teaching and research has been emphasized. We have also summed up our school-running experience of high school education stressing on basis, high school administration stressing on stability and high school education administration stressing on opening. On the basis of all the above, we have achieved great successes and our six scientific research tasks have won the first and second prize in the province successively.
Having gone through the thick and thin through the ninety years¡¯ exploration, especially since the PRC was founded, we have made unremitting efforts to carry out the Party¡¯s education principle and attained encouraging achievements as a modeling window. During the last ten years, 26 of our students have got medals in the International Olympic Intelligence Competition, for which we are well-known throughout the country and overseas as ¡°a cardle of medals¡±.
Nowadays, targeting on ¡°first-class in the country and famous in the world¡±, we are carrying on education and teaching audaciously and carrying out the new course plan thoroughly to play an exemplary role in the provincial senior high school education.
link http://www.hnfms.com.cn/english/main.htm