浏阳人谭嗣同变法的赴死决心,从"各国变法无不以流血而成,今日中国未闻有因变法而流血者,此国之所以不昌也,有之,请嗣同始!"一句,张扬湖南人的雄气与血性。而辛亥革命中影响最大、牺牲最烈的,从省份来看,莫过于湖湘志士,蹈海酬志的陈天华、姚宏业;武昌首义总司令蒋翊武、宋教仁、蔡锷、黄兴……在省会长沙湘江西岸的岳麓山上,安葬着29位著名辛亥革命家。这是一座蔚为壮观的辛亥革命山,在全国又无出其右。
Tang Sitong, an advocate of reform from Liuyang, made up his mind to sacrifice his life for the cause of political reform. "The political reform of every nation has been accomplished through sacrifices of life. No sacrifices of life have been known in our Chinese political reform. This is the reason that the reform does not succeed and the nation does not become stronger. Should there be any life sacrifices, I am willing to be the first!" This statement by Tang Sitong has fully shown the manliness and courage of Hunan. In the Revolution of 1911, in which the Qing Dynasty was overthrown by democrats, Hunan is the province that contributes the most influential and brave martyrs. Among them there are Chen Tianhua and Yao Hongye who plunged into the sea to commit suicides for their social ideal; chief commanders in the Wuchang Uprising, including Jiang Yiwu,Song Jiaoreng, Cai'e, and Huang Xing, among others. 29 well-known revolutionists died in the 1911 Revolution are buried on the Yuelu Mountain that locates on the west bank of the Xiang River in the capital city Changsha. This renders it a mountain of the 1911 Revolution. There is no match of it in other places of China.
  湘潭人毛泽东发动秋收起义,以毛泽东、刘少奇、任弼时、彭德怀、贺龙为首的一大批无产阶级革命家、军事家领导中国工农红军,星星之火,可以燎原;万里长征,世界震惊。为这片英雄的土地增添了新的亮色。
Mao Zedong, a Hunan from Xiangtan, led the Fall Harvest Uprising. Later on, the Chinese Red Army led by a great number of proletarian revolutionists and strategists, most of whom are of Hunan origins, among them Mao Zedong, Liu Shaoqi, Ren Bishi, Peng Dehuai, and He long, successfully carried out the Chinese Revolution. A single spark set the prairie ablaze, and the Long March by the Chinese Red Army astonished the whole world. All these have given new glories to this heroic land.
大家来翻译下面一段: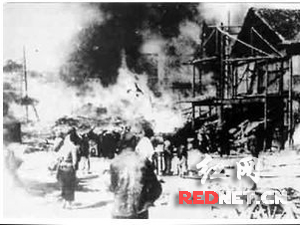 抗日战争中,长沙可怜一炬,"文夕大火"三天三夜,生灵涂炭,不幸成为全国省会城市惟一的焦土。而南县的"厂窖惨案"又成为仅次于南京大屠杀的最大牺牲,3万多人殒命于日寇合围的屠刀与枪炮之下。值得一提的是,在抗日战争十六场重大战役中,长沙会战、常德保卫战、衡阳保卫战等六大战役发生在湖南。抗争之勇、杀敌之多、牺牲之烈,在整个抗战中无出其右。连杀戳成性的日冠竟也"望湘而惧"。故而大陆专门纪念抗日英烈的忠烈祠就建在境内的南岳衡山。中国对日作战的最后也是重要的雪峰山战役,大获全胜,故而芷江又成为整个民族胜利接受日军投降的第一受降地点。