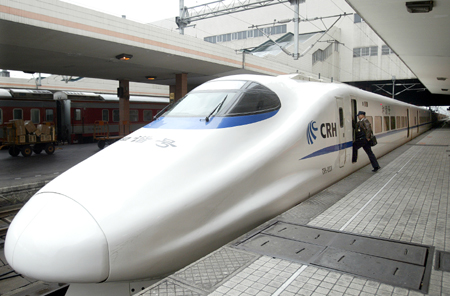 A high-speed train prepares to go on a trial run between Hangzhou and Shanghai on April 17, 2007.
The two retirees might be slow on their feet - but they wanted to be among the first in the country to enjoy the thrill of a fast ride.
So Wang Jiaju, 72, and his 78-year-old friend boarded bullet train D536 yesterday morning from Tianjin to Beijing.
"We heard that they run at speeds of up to 250 kph and we wanted to experience it," said an excited Wang, who bought the tickets three days earlier.
After a little more than an hour's ride, which cut travel time by 10 minutes, he said he didn't feel much difference in speed but marvelled at the spacious and comfortable compartments.
The seats are like those on an airplane only bigger and with more leg room with small tables in the front and a rack for magazines, trash bags and directories in the back.
In addition, the dining car waiters and waitresses were attired in smart uniforms similar to ones worn by air stewardesses as they pushed food-and-drinks trolleys down the aisle.
Loic Benoit, a French businessman on train D533 from Beijing to Tianjin yesterday morning, said the travel experience was comparable to that in France: "Nice and comfortable."
High-speed rail service is common in countries like France, Germany and Japan but it was not until yesterday that China began to run trains at 200 kph and above.
D460, which left Shanghai at 5:38 am and arrived in Suzhou 39 minutes later, was the earliest bullet train, ushering in the era of high-speed rail travel in the country.
Nationwide, 280 high-speed trains went into operation; by the end of the year, the number will hit 500.
Compared with the current services in trains, the bullet train offers many more facilities.
The toilet seat, for example, is warm in winter and cool in summer. Others include diaper-changing facilities bigger than in airplanes, and roomier toilets for wheelchair-bound passengers.
The seats recline, and can be turned around when families or friends want to sit facing each other.
In a considerate touch, warm water is also served, instead of passengers waiting for boiled water to cool down.
"The coffee, 25 yuan ($3.23) a cup, is the most expensive on the train," said Collin Yao, CEO of Fu Ji Food and Catering Services Holdings Limited, which won the bid to catering on trains in North China.
Passengers can choose box meals at prices between 12 yuan ($1.55) and 20 yuan ($2.59), and fruit and dessert boxes and drinks at 5 yuan (65 cents).