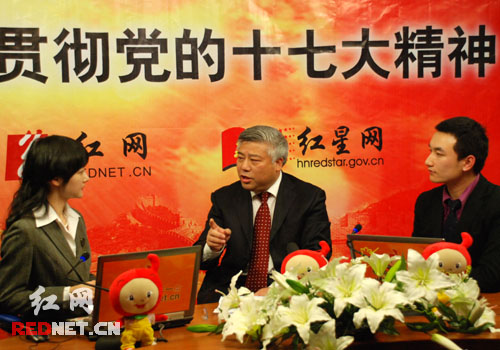 红网长沙12月20日讯(记者 张树忠)"盛部长,我因为工作关系经常要去县里汇报工作,可是一去组织部就有人说我是去'跑官要官',您怎么看这个问题?"
Rednet (Changsha, Zhang Shuzhong): "Mr. Sheng , I had to go to the county government to report our work regularly, but when I went to the upper department someone said that I was going to apply 'official positions'. What do you think about this problem? "
  
  "盛部长,春贤书记提出干部工作要让三种人'不吃亏',请问组织部门如何落实这'三个不吃亏'?" "Mr. Sheng, Zhang Chuxian said that " don't harm the enthusiasm of three kinds of people who work hard for society", I would like to ask how to carry out his words by the work of governments?"
  
  "盛部长,我们长沙县今年一个借助远程教育发家致富的科技示范户评上了袁隆平科技奖……" "Mr. Sheng, we are from Changsha County. We won "Yuanlongping Prize" this year for our internet education towords teaching peasants farming knowledge ..."
  
  "盛部长,我是在湖南最南端的汝城县……" " Mr. Sheng, I am from Rucheng County in the south of Hunan..."
  
  "盛部长,杨梅之乡靖州欢迎你来做客……" "Mr. Sheng, Jinzhou welcome you to visit ..."
  
  今日下午,遍布湖南全省各地的各个党员远程教育工作站点挺热闹。
The websites of Hunan province had a rush hour for the members of Communist Party learning Sheng's live interview in Rednet chatroom.

全省广大基层党员及网友纷纷登录红网、红星网,进入"贯彻落实十七大精神"嘉宾访谈室,做客访谈室的是党的十七大代表、湖南省委委员、省委组织部副部长盛茂林。
Rednet and Redstar website became the platform for these people. Sheng Maolin presented his explaination for " carrying out Hu's report on 17th National Congress of CPC in pracitical work", and Sheng is a delegate of the conference and a member of the Hunan Provincial Committee and a deputy director of the Organization Department of the provincial party committee.
  
  这是湖南省首次利用互联网大范围向基层党员宣讲十七大精神,也是湖南省通过党员远程教育网络系统,加强各级党组织与广大基层党员面对面交流的一种尝试。 150万基层党员通过全省4.7万余个农村党员干部现代远程教育终端接收站点,收看了此次视频直播。
This is the first time in Hunan Province that Hunan government uses internet to deliver explaination about Hu's report on to great amount of party members. And it is a good exprienment to strengthen the learning and "face-to-face" communication with party members of Hunan Province by long-distance-education network system.
1.5 million communist party members watched the live interview through 4.7 million terminal computers in rural long-distance Education system.