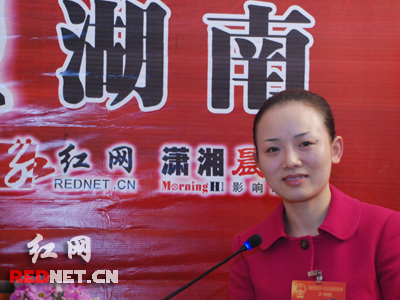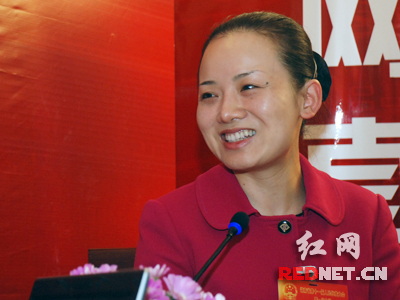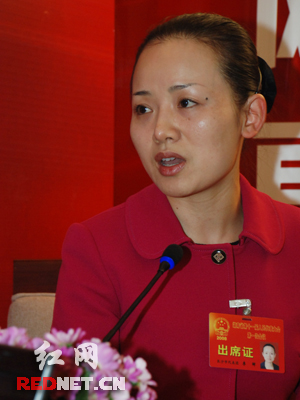 被网友称为美女书记、美女代表,但李晖对这些"美称"不在乎,她更愿意谈青年工作 Been called beauty secretary and delegate, Li would rather talk about her work rather her outfit.
红网长沙1月25日讯 她在红网开通秀客 ,是目前行政级别最高的红网秀客用户。她在秀客中公布的两个议案都和青少年有关,受到网友的积极关注。更有网友发贴留言,说她像国际巨星章子怡,亲切称她为"美女代表"。
Rednet (Changsha January 25) She opened her blog in Rednet Show channel. She is the top delegate registered in Rednet. Li Hui is the delegate who made two proposals about youth in the 11th people's congress of Hunan, which drew great attention from average people in Hunan. Net viewers call her a "beautiful" delegate with the look of Zhang Ziyi the international film star from China.

她叫李晖,湖南省十一届人大代表、十七大党代表,现任共青团湖南省委书记。
Her name is Li Hui, and she is the delegate of the 11th People's congress of Hunan province and the delegate of the 17th National People's congress. She is the secretary of the Hunan Provincial Committee of the Communist Youth League.

"在构建资源节约型、环境友好型的工作中间,青年人是大有可为的。"谈到湖南青年在建设"两型社会"中应该发挥的作用,她认为应该从四个方面来发挥团组织和青年的作用,"一个是组织青年参与到建设中间;第二是引导青年更好的服务;第三教育青年;第四要维护青年的合法权益,同时作为共青团组织,这也是我们应尽的一种工作职责"。
"Young people is the main force to construct a resource-saving and friendly-environment -society," she said when she talked about the works of young people in constructing better society. Li said that the work of younth should began from four aspects: first, to encourage youth to work for the society; second, to guide young people serve better for the society; third, to educate young people; fouth, to protect young people legistically. These are tusks of Communist Youth League.