Dongfang Yinzun Restaurant (东方银尊酒楼) is a medium-sized restaurant near the Beijing Zoo, serving foods combining Hunan, Hubei, Jiangsu cuisines.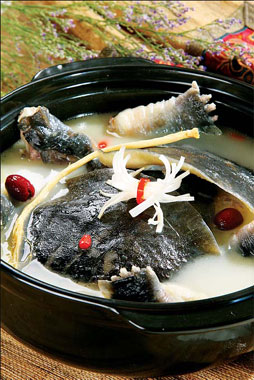 Like many average and high-end restaurants in Beijing, the restaurant serves bird's nest, abalone and shark fin soup, while other important specialities include wild soft-shelled turtle, fish from Yangtze River, plus venison and farm-bred deer.
The Chinese believe that soft-shelled turtle replenishes your energy and is a very good source of nutrition. The turtle comes from Honghu Lake in Hubei, a natural reserve full of fish, shrimp and crabs. The restaurant braises its turtles in brown sauce (红煨甲鱼), then turns them into white (白汤甲鱼) or brown soup (红汤甲鱼).
Another speciality is the "soaked" crab (泡蟹), or prawn (泡虾). The restaurant took two years to invent its own cooking method, in which it gives its crab and prawn dishes a unique taste by soaking the seafood in seasoning materials.
There are also spicy crabs (香辣蟹) and spicy prawns (香辣虾) served in stone pots.
Besides that the menu includes such wonderfully sounding dishes as "Buddha, jump off the wall" soup, prepared with a variety of seafood and meats simmered for a long time. There are other seafood dishes, like the Wuchang fish (武昌鱼), blunt-nose, black bream, Hui fish (回鱼) and long-nose catfish. More conservative diners might be tempted instead by common dishes like fried squid slices with leek (炒韭菜鱿鱼丝), and steamed ground rice with pork (米粉肉).
An average meal might set you back 100 yuan per person. The menu is in Chinese but there are color illustrations for most dishes.
No need to rush in and out: There are also private rooms with karaoke and TV.
100 meters east of the Beijing Zoo, on the north side of the road. 141 Xizhimenwai Dajie, Xicheng District, 8837-0660. 西城区西直门外大街141号,北京动物园西100米路北