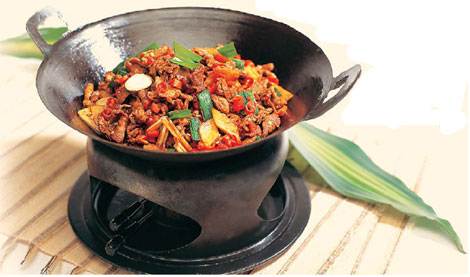 Xiang E Qing (湘鄂情), a restaurant known for its elegant presentation of Hunan and Hubei food, has opened a new branch to the east of Dongsishitiao Qiao on Eastern Second Ring Road. The five-floor restaurant has 10 tables in a public hall on the 2nd floor, and more than 30 private rooms from the 3rd to 5th floors. These each have comfortable couches, a big-screen TV with karaoke and a piano where you can pay to have a piano player during your meal.
The fragrant dry-pot long-snout catfish (干锅鮰鱼) is exceedingly tender, albeit a bit spicy with red chili and soup. Although it sounds a bit strange, spicy dry-pot shredded donkey meat (干锅湘之驴) is unexpectedly delicious. Boiled sheldrake in soup (湘悠一品鸭) and You County nutritious tofu (攸县养生豆腐) are both worth a try.
The restaurant has also created a special new way to prepare high-quality abalone wrapped with kelp and baked inside salt shell (俊哥昆布鲍鱼). The result is surprising when you crack its hard salt shell, unfold the kelp wrapping and find that soft, elastic abalone. There is also braised sea cucumber with millet (小米炖辽参), sautéed French goose liver (香煎法国鹅肝), and prepare cod with saffron (藏红花焗银鳕鱼).
The average meal costs 200-500 yuan per person.
10:30am-2pm, 4:30-10pm. 16 Wangjiayuan Hutong, to the southeast of Dongsishitiao Qiao on East Second Ring Road. 6554-8777
东四十条桥外东南侧王家园胡同16号,港澳中心南面,富华大厦东面
(China Daily 08/30/2008 page8)