访谈嘉宾:湖南经视节目中心主任、《快乐向前冲》制片人 章红伟、主持人 彭宇
Live show of " Happy! Ready Go!" is a TV real people show of Hunan economic TV. As the year of Beijing Olympic Games, Hunan people activly enjoy the competition of adventure game which is like a game of walk on barrals and balls.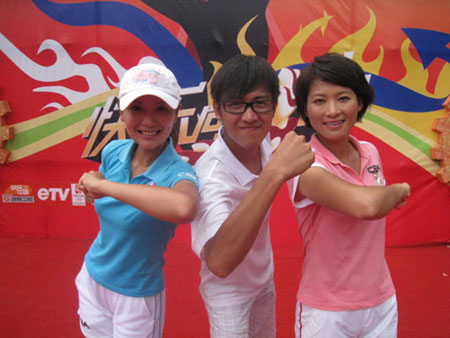 因为5月突入而来的汶川地震,全国的所有娱乐节目都集体暂停。但以娱乐为主的电视湘军却以一档《快乐向前冲》的全民参与的大型体育互动类节目夺得不少观众眼球,并在全国引发一场热浪。一连夺得多个全国收视率第一,被称为继《超女》后的又一奇迹。
" Happy! Ready Go!" is one of most popular TV shows since May in 2008 , and the program has attracted national wide audience to enjoy the games.