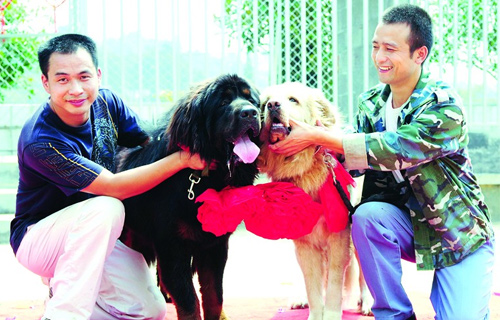 本报9月18日讯"吉时到,送入洞房。"红地毯、大红花,还有大把大把的喜糖,洞房却是一个贴着喜字的大铁笼。 今天上午,长沙市开福区捞刀河镇,两只不足两岁的藏獒结成夫妻,隆重的婚礼引来众多人观礼,看着卿卿我我的"新郎新娘",大家笑成了一片。
On the morning of September 18, a grand wedding ceremony was held for two tibetan mastiff dogs in Kaifu area of Changsha City, Hunan province. The two dogs are less than two years old. The affectionate couple frequently "kissed" during the ceremony, arousing roars of laughter from dozens of onlookers.
夫妻俩大秀"恩爱"
"新郎"是有"东方美男"之称的保国,体重超过65公斤,纯黑的双层被毛丰润飘扬,身材健壮魁梧;年龄稍小,全身毛发金黄的"新娘"千金略显矜持,一步步走到"新郎"身边,不时低下头,十分温驯。
The "groom" named Baoguo is a " Oriental handsome boy" over 65 kg. With great black hair, he is a strong one; the "bride" is younger golden hair tibetan mastiff dog. She is a very tamed one.
As is tradition in China, Bao Guo's owner presented a dowry of more than 120,000 yuan ($17,600) to Qian Jin's owner in a bid to win permission to marry.
Senior members of the Hunan Provincial Association of Dogs and Mastiffs attended the special wedding.
Tips:
The Tibetan Mastiff (藏獒 Zang'Ao in Mandarin, Do-khyi in Tibetan, meaning 'tied dog' or 'Bhote Kukur' in Nepali which means Tibetan Dog) is a rare breed of domestic dog (Canis lupus familiaris) originating in Tibet and neighboring countries with similar nomadic cultures (e.g. Mongolia, where it is called "bankhar", meaning "guard dog").