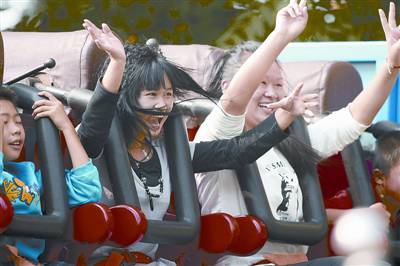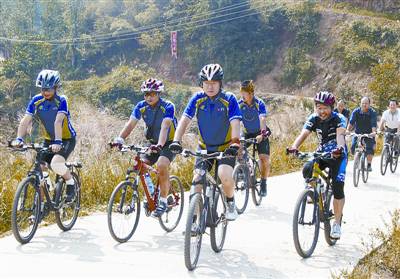 ( 10月5日,一批自行车爱好者骑车前往怀化市洪江区菖蒲山,欣赏秀丽风光。刘文颖周建勇摄 A group of bicycle riders were on their way to enjoy the beautiful scenery of Changpu mountain in Hongjiang area, Huaihua city on October 5. Photo by Liu Wenying and Zhou Jianyong.)
三湘都市报10月5日讯(记者谭斯亮)省假日办今日对外通报,今年"十一"我省旅游迎来了期待中的"井喷"热潮:9月29日至10月5日,全省共接待旅游者877.42万人次,同比增长19.13%%,创下我省历次黄金周接待量的最高水平;全省预计实现旅游收入38.7亿元人民币,同比增长23.14%%,14个市州旅游收入历史性地同时预计超过亿元。
The number of tourists in Hunan was surging during this year's seven holidays of National Days. From September 29 to October 5, the sum of tourists reached 8,774,200 persons in total, which increased 19.13%% than the last year's Golden Week Holidays in Hunan. It hits its highest level according to the data from Holiday office of Hunan Province. The income of tourism reached 3.87 billon yuan, with 23.14%% of increase more than last year. At the same time, 14 counties and cities have more than 100 million yuan of income in tourism than ever.
此外,本次黄金周期间省假日办接到的有效投诉仅仅为17起,全省各种旅游纠纷和旅游安全事故基本为零,显示我省假日旅游的服务质量已有明显提升。
In addition, only 17 complaints was handed to governments in Golden Week holidays. No accidents happened during the holidays, and which indicates service quality in the holidays has improved significantly in Hunan province's tourism.
好玩的活动太多了 Interesting activities for tourists
  
黄金周期间,全省各地推出的一系列主题活动精彩纷呈,各大景区客似云来。如长沙世界之窗推出西红柿大战、海底世界"人鲨共舞",常德市精心组织策划了"桃花源田园文化休闲游"等八大主题活动,湘西千年古镇芙蓉镇举办"土家族毛古斯文化节"和百桌牛头宴。
Hunan province organized a series of themed activities in major scenic spots. Interesting tours with theme-activities attracted thousands of tourists, such as Tomato fights, "Swimming with shark " in Changsha, Taohuayuan park tour in Changde, "Tujia Maogusi Cultural Festival " in Furong county of Xiangxi and Cattlehead meals.