A university art graduate was recently nicknamed "the pig lady" in Wangcheng county, Hunan province.
Chen Juan has worked at a pig farm since graduating from the art department of Hunan Women's University in June.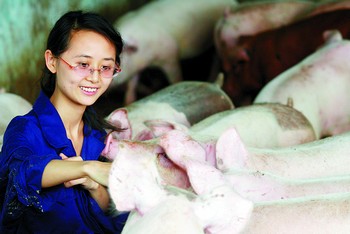 And now the beautiful young woman loves raising pigs, feeding them, combing their hair and bathing them every day.
Chen said raising pigs is also an artwork, like painting.
Now she gets distressed if one of her pigs falls ill or refuses to eat.
Chen has now attracted many fans after starting a blog to share her feelings and experiences in raising pigs.
 学艺术设计的美女大学生陈娟,今年6月从湖南女子大学毕业,令人难以想像,毕业后,她应聘当上了养猪员。她把养猪当艺术活来干,她喂的猪也长得格外俊,卖得格外俏,养猪基地老板尊称她为"养猪公主"。(10月5日《长沙晚报》)

(Changsha Evening News)