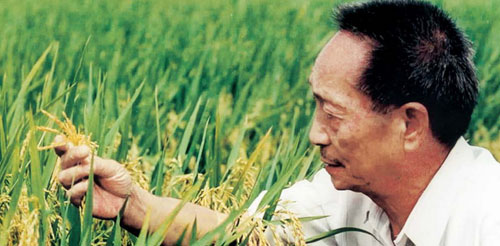 In the Five "Top-Ten" Contests organized by China Association for Science and Technology, Hunanese Yuan Longping, "Father of Hybrid Rice", is ranked in the "top 10 disseminator of technology", while his successful breeding and wide application of hybrid rice is rated as the "top-ten most influential technologies in China". A popular science reading "Whys in Masterpieces (Natural Science)", created by Sui Guoqing, Director-General of Hunan Science Writer Association, a noted popular science writer, is rated among the "top-ten favorite popular science readings".
  The ten outstanding disseminators of technology are Yuan Longping, Qian Xuesen, Hua Luogeng, Mao Yisheng, Ye Zhishan, Deng Jiaxian, Qian Sanqiang, Zhu Kezhen, Li Siguang and Wang Xuan. Yuan's achievements in scientific research of the breeding of short-stalked rice, hybrid rice and super hybrid rice have been keeping the leading level of its kind in the world for three times since 1960s. With the wide application of the first two research results, the single yield of paddy rice has been raised to about 600 kilos from 400 kilos before, contributing an amazing increase of over 300 billion kilos for the recent 20 years.
  Sui's popular science reading "Whys in Masterpieces (Natural Science)" is informative, interesting and reader-friendly, and mainly describes anecdotes of Chinese and foreign masters in composing their masterpieces as well as their far-reaching influences to the future generations.
中国科协11月16日在北京发布"五个10"系列评选活动的最终结果,袁隆平、钱学森、华罗庚、茅以升、叶至善、邓稼先、钱三强、竺可桢、李四光、王选入选"十大科技传播人物"。
  
  10部公众喜爱的科普作品是:《珊瑚岛上的死光》、《登上健康快车》、《宇宙与人》、《机械工人速成看图》、《竺可桢科普创作选集》、《华罗庚科普著作选集》、《十万个为什么》、《泥石流》、《名家名作中的为什么(自然科学卷)》和《中外著名科学家的故事》。
  
  10个公众关注的科技问题是:空间探测与绕月工程,基因的研究与应用,能源资源如何可持续发展、可再生能源能够发挥多大作用,核能发展的前景,纳米技术、纳米材料及其应用,楼兰古城的消失之谜,癌症能否被攻克,地震能否被预测,SARS等传染病如何防治,"哥德巴赫猜想"能否最终被证明。
  
  10个影响中国的科技事件是:"两弹一星"研制成功、杂交水稻选育成功及其推广应用、神舟五号载人航天飞行成功、中国首次"探月工程"取得圆满成功、中国大陆首例"试管婴儿"诞生、2003年暴发SARS疫情、陈景润取得"哥德巴赫猜想证明"世界领先成果、《中华人民共和国科学技术普及法》颁布实施、中国接入互联网、中国建立院士制度。
  
  10项引领未来的科学技术是:基因修饰技术、未来家庭机器人、新型电池、人工智能技术、超高速交通工具、干细胞技术、光电信息技术、可服用诊疗芯片、感冒疫苗、无线能量传输技术。(记者赵永新)