Dairy firm Sanlu Group has borrowed 902 million yuan ($132 million) to pay the medical fees of children sickened by its melamine-tainted baby formula and to compensate the victims.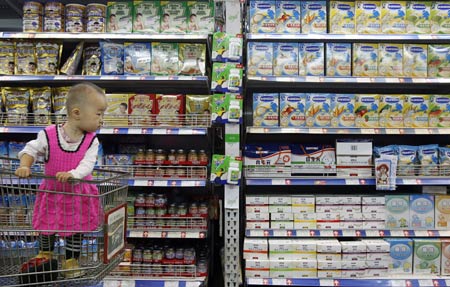 A child looks at milk powder products on the shelves of a supermarket in Taiyuan, Shanxi province. [China Daily]
  A local court has accepted a bankruptcy petition filed by Sanlu, which has a debt of 1.1 billion yuan ($160 million).
  The Shijiazhuang city government, which owns a 56 percent stake in troubled dairy producer Sanlu, has made it a priority to preserve the company's distribution network in its home province, Hebei, and other regions in north China. This comes after the Shijiazhuang government confirmed that Sanlu is now in a state of bankruptcy.
  Related readings:

Dairy makers eye Sanlu's assets

Sanlu in bankruptcy proceedings

Bankruptcy looms over tainted Sanlu

Sanlu urged to 'do the right thing'

'Sanlu' liquid milk back on market
  This strategy is widely seen essential for a proper valuation of the troubled company's assets. Potential bidders for the assets are likely to set their eyes on Sanlu's most valuable asset, the well-established distribution network, said analysts.
  The Shijiazhuang government said Thursday Sanlu has already paid back 30 percent of the money it owes to its 400-odd distributors, and is planning to make another payment, reported to be another 30 percent of the debt, on Jan 10, 2009.
  The local government also estimated that the entire debt to distributors would be paid off in the second half of 2009.
  "This is the best way out if Sanlu does not want its entire resources ruined overnight," said Liu Xiaofeng, a dairy researcher from China Minzu Securities. "Sales network is the company's most valuable asset and is what the potential bidders want most," he said.
  Since September, Beijing-based Sanyuan has been negotiating with Sanlu on the possible asset acquisition. Industry experts said Sanlu's sales network was what attracted Sanyuan most.
  Sanlu was in the center of the tainted milk scandal which broke in mid September. Since then, it has closed down most of its operations.
  The company's debt was stated at 2.66 billion yuan at the end of October, against total assets valued at 1.56 billion yuan.
  The company's debt includes a commercial loan of 902 million yuan secured on Dec 19 to meet the medical expenses of and compensation to children affected by tainted milk powder produced by the company.
  As per the terms of the newly drafted bankruptcy law, the court-appointed receiver would have six months to appraise and sell Sanlu's assets.
  Proceeds from the sale would be used first to pay staff compensations, then for compensation charges associated with the milk scandal and finally the money owed to creditors, said Wang Weiguo, professor, China University of Political Science and Law and one of the bankruptcy law drafters. Distributors are among those who are last in line to get repaid, he said.