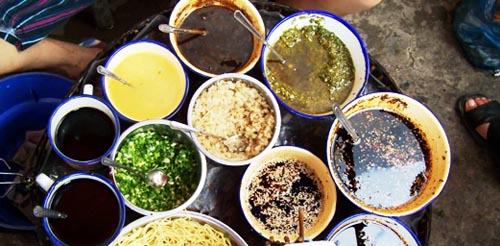 According to the Summit Form on Hunan Food Industry Development - Hunan Cuisine Brand Project Conference, Hunan's food industry of scale has realized a total output value of 10.71 billion Yuan (tobacco not included) during the period from January to November this year and ascended to the third industry with the output value over ten billion Yuan in Hunan Province. Chen Zhaoxiong, Vice-governor of Hunan Province, Shi Yuzhen, deputy director of Hunan Committee of the Chinese People's Political Consultative Conference, and veteran leader Li Yiheng presented at the conference.
  Oriented on the refined processing industry of advanced agricultural resources, Hunan has shaped a series of superior industries as food processing, poultry meat processing, edible oil processing, etc.; the industrial scale increasingly expands and there have been over 1200 enterprises of scale; the food industrial parks develop rapidly; the whole food industry of Hunan Province has owned 14 famous brand products and 13 well-known trademarks of China.
  Chen Zhaoxiong called for to orient on industrial structure adjustment and independent innovation, and develop brand construction, so as to endeavor to realize a total output value of Hunan's food industry of scale over 500 billion Yuan in 2015.
湖南日报12月27日讯(记者 李勇 通讯员 郑安生 关莉娜)记者从昨天召开的湖南食品工业发展高峰论坛·湘菜产业品牌工程会议上获悉,今年1至11月,全省规模食品工业(不含烟草)完成总产值1071亿元,成为我省第三个千亿元产业。副省长陈肇雄、省政协副主席石玉珍、老同志李贻衡出席。
  
  湖南围绕优势农产品资源发展精深加工业,逐渐形成了粮食加工业、畜禽肉类加工业、食用植物油加工业等一批优势产业;产业规模不断扩大,有规模以上企业1200余家,形成了唐人神、正虹科技、金健米业等龙头企业,长沙粮油乳茶、岳阳粮油茶调味品、常德粮油水产品等8个食品加工产业集群;湖南高科技食品工业基地、常德金健米业工业园等一批食品工业园区快速发展;全省食品工业拥有中国名牌产品14个、中国驰名商标13个。
  
  陈肇雄说,要以调整结构为主线,以自主创新为动力,以品牌建设为抓手,力争到2015年全省规模食品工业总产值达到5000亿元以上。"十一五"后期和"十二五"期间,湖南食品工业要大力实施"8611"战略:培育发展长沙粮油乳茶等8个食品深加工产业集群,优先发展粮食加工等6个子行业,重点抓好湖南高科技食品工业基地等十大食品工业园区(基地)建设,做大做强唐人神等10家龙头企业。