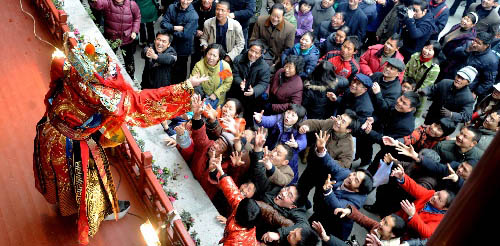 A New Year temple fair was celebrated in Changsha fiery palace (also: Fire God Palace,Huo Gong Dian)Jan. 28, a 100-year-old eatery, where the Fortune God was sending red money packets (cash wrapped up in red envelope, symbolizing fortune and wealth in the coming year.) to visitors. Performers from western Hunan gave theatrical show with strong Xiangxi flavor to the Changsha audiences at the temple fair.
  1月28日,火宫殿戏曲舞台上,"财神爷"正在给观众发红包。 当日,长沙市百年餐饮老店火宫殿举办迎春庙会。庙会上,来自湖南张家界的戏剧演员们为长沙的观众带来了充满浓郁湘西风情的地方戏剧。 新华社记者 李尕 摄
  According to the Changsha Evening Newspaper, there will be good plays in the fiery palace every day from Jan. 25 to Feb. 1. Despite the cold rain on Jan. 28, the Changsha citizens were still very enthusiasitic. The theater performers from Zhangjiajie of Hunan not only bring Xiangxi-flavored performances but also the red money packets enveloped in red paper to the audience, arousing a sensation.
长沙晚报1月29日讯 从1月25日到2月1日,长沙火宫殿每天都有好戏连连。昨日,天气微寒,小雨连连,但阻挡不住市民朋友的热情。来自湖南张家界的戏剧演员们不但为长沙的观众带来了充满浓郁湘西风情的地方戏剧,还干脆现场给观众发起了红包,场面气氛十分火爆。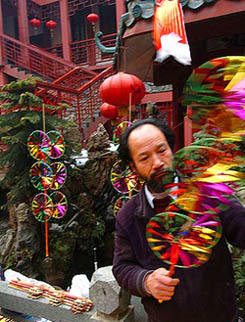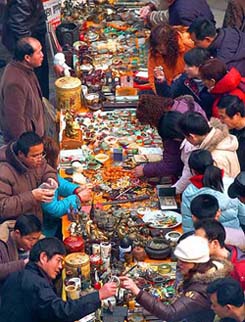 It is known that the New Year temple fair in the fiery palace located in Pozi Street, consisting of theater performances, delicacy tasting and games, ect, will continue until the seventh day of Chinese lunar New Year. There will be various performances like Zhezi play, ethnic dances and songs on the old theater stages; Xiang Cuisine and snacks as well as many traditional Chinese games such as the sugar drawing, sedan chair, colorful Chinese dragon boating etc.
  据悉,看大戏、品美食、玩游戏……大火宫殿坡子街总店的迎春庙会将持续到正月初七。
  大年初一至初七,火宫殿迎春庙会上,古戏台将演出湘西阳戏折子戏、少数民族歌舞,台上台下互动,享受过年的欢乐;一二楼美食街、三四楼宴会厅将重点推出火宫殿荣获"2008年全国烹饪大赛"六个金奖的湘菜、小吃和充满春节寓意的传统湘菜、风味小吃300余种;游艺节目中,除糖画、面人、西洋镜、坐花轿、划彩龙船外,最具新意的是号称"天下第一秤"的老式16两秤。