LONDON -- Premier Wen Jiabao sounded a note of optimism Monday in London and pointed to signs of economic recovery in China as indicating there is "light at the end of the tunnel" regarding the ongoing global financial crisis.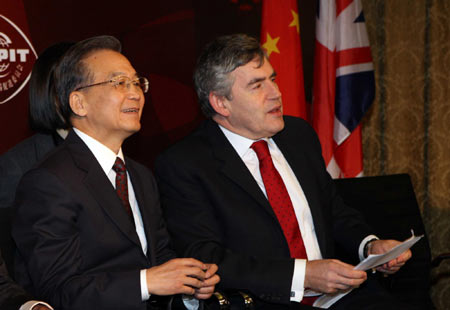 China's Premier Wen Jiabao (C), Britain's Prime Minister Gordon Brown (R) listen during a business summit at the Institute of Directors, in London February 2, 2009. [Xinhua]
  "In some places people are disappointed, people are frustrated and people are pessimistic. They are quickly unsettled by the current situation," Wen told a business conference during a visit to the British capital.
  Related readings:

Premier warns against protectionism

Premier in London to Boost Ties

China, EU to Hold Talks by June

EU tour underscores confidence

China, Germany to jointly fight slowdown

PM calls for faith in tackling crisis
  "There is light at the end of the tunnel ... I am calling for confidence, cooperation and responsibility, I've been calling for that all along because if we do that we can save the world."
  The conference was also attended by British Prime Minister Gordon Brown, who is preparing to host a summit of world leaders in April at which new measures to tackle the credit crisis will be outlined.
  In a joint statement, China and the UK Sunday vowed to work together to ensure the summit produces concrete solutions to the crisis.
  They also pledged to push WTO negotiations, reform the international financial system and support emerging economies to have a bigger say in financial institutions such as the World Bank and the International Monetary Fund.
  Signs of recovery were seen in the final days of 2008 and China will maintain economic growth of "about 8 percent" this year, Wen said on Sunday.
  "During the last 10 days of December it started to get better. The goods piled up in port started to decrease and the price of industrial products started to rise," Wen said.
  The government has already pledged 4 trillion yuan ($586 billion) over the next two years to help boost domestic demand. Work on projects including rebuilding the earthquake-hit southwest and improving road and rail links is under way.
  But Wen told the Financial Times that more work is needed.
  "We may take new, timely and decisive measures. All these measures have to be taken pre-emptively before an economic retreat," he said in an interview published late on Sunday.
  A plan to enable the use of some of China's huge foreign currency reserves for domestic purposes is under discussion, he told the paper.
  Wen also said that he would unveil stimulus measures for shipbuilding and textiles when he returns home.
  Underlining his positive comments, he said 900 billion yuan in aggregate loans had been added to the Chinese economy in the first 20 days of January, more than double the figure for the whole of last November.
  China's economic growth slowed to an annual rate of 6.8 percent in the last quarter of 2008, dragging down the pace for the year to 9 percent, the lowest in seven years.
  Origin of crisis
  Wen signaled his belief that the US should shoulder a large share of the responsibility.
  "The causes for this financial crisis are obvious. The main causes are that some economies have imbalances in their economic structure. For a long period of time they have had dual deficits, trade deficit and fiscal deficit, and they have been overspending by borrowing," he said yesterday.
  The UK is the last leg of Wen's European tour, which also took him to Switzerland, Germany, Belgium and Spain.
  During his visit, China has signed 38 contracts worth 15 billion yuan ($2.2 billion) with EU member countries.
  But it is "not a huge amount, (and) that is why we have decided to send a purchase group later to place significant orders in Europe," he said.