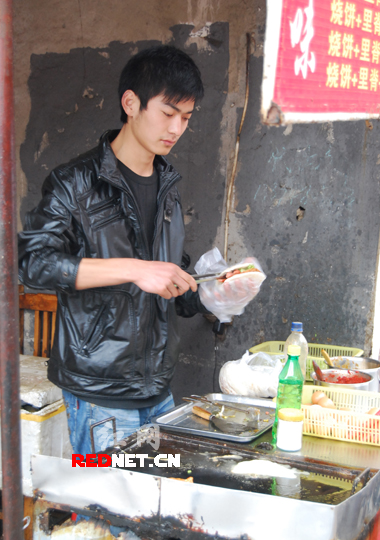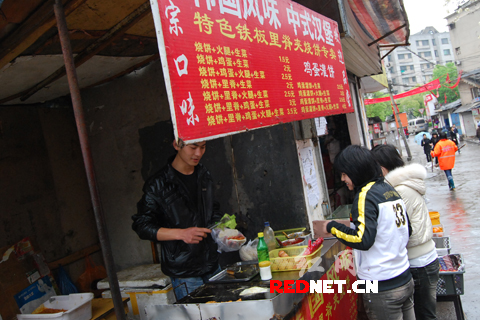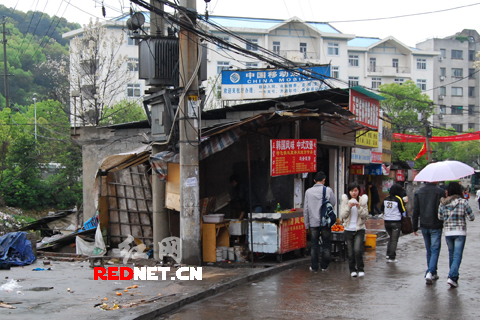 帅小伙两平米左右的店面,是在一屋檐下搭建的棚子。摄/耿红仁 The boy made a two-square-meters fastfood tent by the roof of a shielter. Photo by Geng Hongren。
Related Reading: Last snaps in Fallen Street, Changsha
红网长沙3月30日讯(记者耿红仁)提到卖烧饼的,人们自然想起了身材短小、长相寒碜的武大郎,不过,长沙的"堕落街"(即麓山商业文明街)上一位眉目清秀、年轻帅气的小伙,却在两平米大小的店铺卖烧饼,或许你还真难以想象,不少人揣测说"人家可能是个富家子弟,做烧饼卖只是体验生活的",当然你也可能会由"豆腐西施"而想到"烧饼帅哥"。
Rednet Changsha-----Talking about the typical image of a man who sells Shaobing ( a kind of bread-like fastfood) , people usually recall Wu Dalang, a small and ugly one, who is an image in Chinese literature. Whereas, a handsome boy, selling Shaobing ( like sandwiches or burgers nowadays ) in Fallen Street of Changsha city, is totally different from Wu Dalang. The strikingly handsome young man does the humble job of making fastfood within a two-square-meter small stall. Some netizens said that he might be a rich boy, and what he is doing might be a part time job for experiencing a different life.
帅哥长相酷似明星走红网络 The handsome guy has a outlook of movie stars
而令这位小伙自己也没有想到的是,近日他的一组"工作照"在红网论坛、天涯社区、豆瓣网等网上广泛流传.
To the boy's surprise, his working photos were wide spread online through Rednet Forum, Tianya community.
"帅哥酷似黄晓明,还有点像金城武,那个饼我们都叫作'帅哥饼',我和同寝室的女生经常去那吃",在红网论坛上可以看出,他在网上也有很多"粉丝"。
"He is like Huang Xiaoming or Kaneshiro Takeshi. We make a nickname 'handsome cake boy' for him. My roommate and I always buys his food. " a netizen wrote at Rednet Forum where the boy has a lot of fans.