The 2009 Hunan Promotion Meeting of New Energy-Saving and Emission-Reducing Technologies and Products Staged in Changsha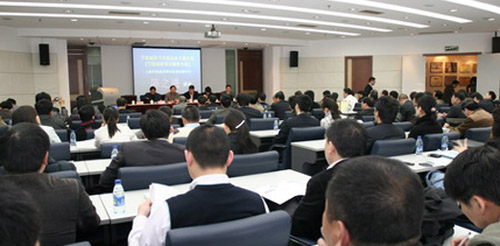 (Hunan Daily, April 19,) The promotion meeting of new energy-saving and emission-reducing technologies and products of Hunan was staged in Changsha. Over 80 kinds of new products and technologies with independent intellectual property rights, such as the high-efficient and energy-saving electromotors debut in the meeting. Shen Longhai, Chairman of The Energy Management Company Association (EMCA) of China attended the meeting.
  The promotion meeting was initiated by Hunan EMCA and Hunan Building Energy Efficiency Association. Of the 80 matured new technologies and products introduced, there were renewable resources, oil-saving, water-saving, material-saving and environmentally-friendly projects, which are characterized by low energy consumption, low cost and low pollution.
  In the afternoon, the delegates of the meeting paid a visit to the building of scientific and technological demonstration on energy conservation and emissions reduction in Broad Air Conditioning Co., Ltd. and held a panel discussion. They heatedly discussed the issues concerning the technologies, policies and promotion of the application of energy-saving.