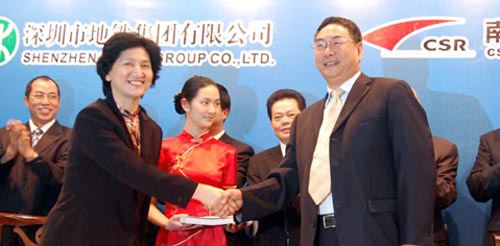 May 9, CSR Zhuzhou Electric Locomotive Co., Ltd.( hereinafter CSR Zhuzhou) signed a contract of 150 metro vehicles for Shenzhen Subway Line No. 5 with Shenzhen Metro with the value of RMB1.1 billion in Zhuzhou, Hunan Province. These vehicles are independently developed by CSR Zhuzhou. The first vehicle is to be delivered by the end of August, 2010 and the rest by late December, 2011.
  Shenzhen Line No.5, about 40 km long, is scheduled to be open to traffic in June, 2011. These metro vehicles are of integrated aluminum alloy welding structure with the design speed of 80 km/h and the design life of 30 years. For six-vehicle marshalling, the maximum capacity is of over 2500 passengers.
  In light of international standards, there are three types of mass transit vehicles, A, B and C, with the corresponding vehicle width of 3m, 2.8m and 2.6m. Type A is 22.3 meters long and 3 meters wide. CSR Zhuzhou took the lead in realizing the industrialization of type A metro vehicles with independent development. Up till now, the 6 metro vehicles delivered to Shenzhen Metro for Line No.1 are to be put into operation in June this year now that the work on subway carrying capacity and examination has been completed.
  The traction system is one of the core components of metro vehicles and the core technology for the reason of which transnational corporation have monopolized Chinese subway market for a long time. CSR Zhuzhou will make breakthroughs for mass use of domestic core components this time. It is reported that 3 Type A vehicles and 5 Type B vehicles on the above contract are to be equipped with domestic traction system.