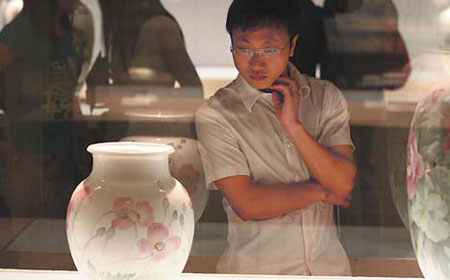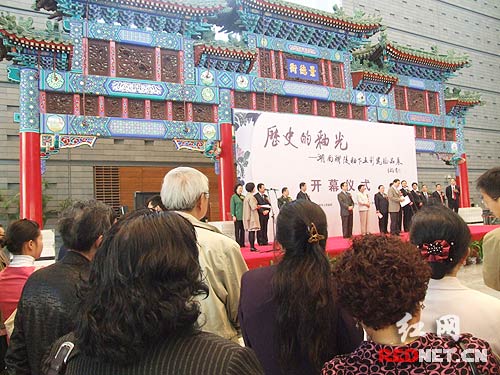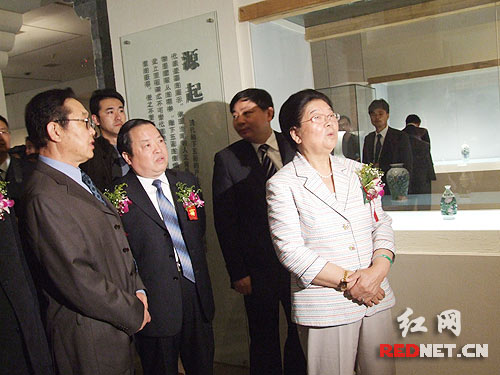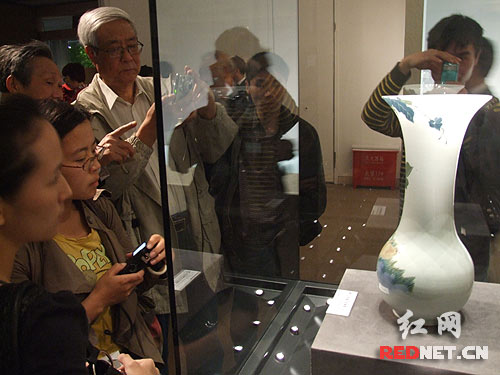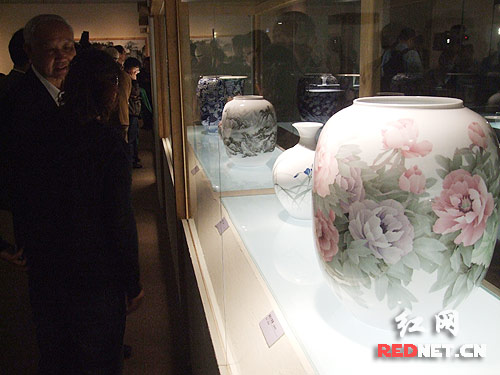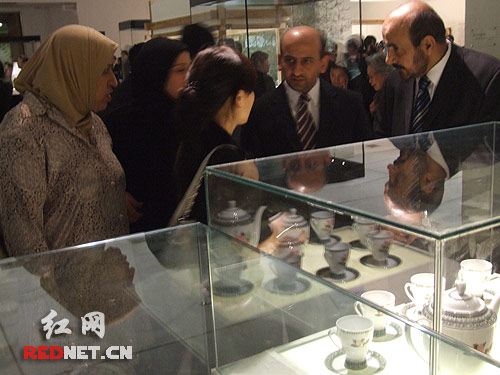 Every piece of art tells a story about the culture that produced it. A recent exhibition at the Capital Museum on the Liling under-glazed porcelain is a case in point.
  Liling, a small town in eastern Hunan province, has abundant reserves of ceramic materials. Different from the traditional Chinese blue-and-white porcelain, Liling under-glazed porcelain is famed for polychrome, with the same refined elegance. In 2008, Liling porcelain was officially recognized as part of the national cultural heritage.
  The ongoing exhibition is in three parts: Origins, featuring items produced in the late Qing dynasty, when the industry first flourished. The second part, Treasure, displays household porcelain, especially produced for former leaders such as Chairman Mao Zedong and Deng Xiaoping. Liling porcelain is used in the government headquarters at Zhongnanhai and is often presented as gifts to foreign leaders, hence the nicknames national porcelain, and red official porcelain.
  The Development section of the exhibition showcases the latest styles of Liling porcelain. Its fresh and elegant look, as well as environmental-friendly quality have enhanced its popularity in recent years. Unlike some other varieties of porcelain, it contains no harmful traces of lead or cadmium.
  The exhibition at Capital Museum, running concurrently with two others, featuring blue-and-white porcelain and the sculptures of Swedish ceramic artists Ulla and Gustav Kraitz, offers visitors a feast of ceramic art.
  Hosted by the Hunan Provincial Cultural Affairs Bureau and Zhuzhou Municipal Government, the exhibition is one of a host of cultural activities being held to celebrate the 60th anniversary of the founding of the People's Republic of China.
  9 am-5 pm, until June 20
  Capital Museum, 16 Fuxingmenwai Dajie, Xicheng district, 6337-0491
  首都博物馆, 西城区复兴门外大街16号
  Story by Chen Nan, photo by Jiang Dong
  红网北京4月27日讯(记者 汤红辉)天下名瓷出醴陵!醴陵釉下五彩瓷以细腻瓷质、精美画工、清新雅丽等特点,为世人所喜爱。今日下午,"历史的釉光——醴陵釉下五彩瓷珍品展"在首都博物馆开展。全国人大原副委员长顾秀莲、国家工商总局局长周伯华、国土资源部原部长孙文盛、中纪委原副书记夏赞忠以及毛泽东后人、中国人民解放军军事科学院战争理论和战略研究部副部长毛新宇等出席开幕式。
  
  "历史的釉光——醴陵釉下五彩瓷珍品展"是由湖南省文化厅、株洲市人民政府特别推出的近年来最大一次釉下五彩瓷珍品展览,目的是为了弘扬传统技艺,推介湖湘文化,展示釉下五彩瓷的独特风采,同时向建国六十周年献礼。
  
  醴陵的陶瓷生产史可追溯到汉代。最早烧制瓷器是在宋元时期。光绪三十一年,清政府官员熊希龄会同醴籍举人文俊铎,在醴陵"立学堂、办公司",在总结传统陶瓷技艺的基础上,吸收中外陶瓷科技新成果,采用自制釉下色料,首创釉下五彩瓷。建国后,醴陵釉下五彩瓷又以其精湛技艺和至高品质,被选为毛主席用瓷和国家宴会瓷、陈设瓷,走进了人民大会堂、中南海、毛主席纪念堂等著名殿堂,并多次作为国礼馈赠给各国元首和政务要员。釉下五彩瓷因此获得"国瓷"的美誉,醴陵也成为名副其实的"红色官窑"。2008年,醴陵釉下五彩手工技艺入选国家非物质文化遗产保护名录。
  
  "历史的釉光——醴陵釉下五彩瓷珍品展"将展示清末民初以来醴陵釉下五彩瓷的97件艺术珍品,其中很多还是中国陶瓷艺术史上的巅峰之作,集艺术价值、历史价值、文化价值和收藏价值于一体。展区分为清末民初时期釉下五彩瓷珍品、建国后以"毛瓷"为代表的"红官窑"珍品、改革开放以来釉下五彩瓷的创新和发展三个部分。展览将于6月20日闭幕。
  
  展览开幕之前,醴陵市人民政府还向首都博物馆捐赠了一批精美醴陵瓷器作品。