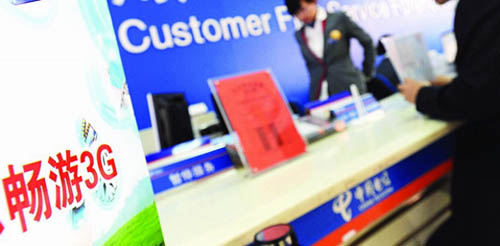 Five branches of China Telecom in Hunan's Changde, Yiyang, Yueyang, Hengyang and Chenzhou cities held separate release conference on the official launch of 3G services for commercial use on May 15. Up to now, Hunan Telecom, the subsidiary of China Telecom has completed the commercial operation of 3G services in 14 cities and prefectures across Hunan, taking the lead in the full coverage of 3G signals in the province.
  Taking its advantage of the immediate and smooth transition from CDMA network to 3G communication, China Telecom accelerated the construction, optimization and upgrading of 3G network in an all-round way. At present, China's Telecom's 3G business for commercial use has been launched in more than 300 cities throughout China.
  Concerned chiefs of Hunan Telecom introduced that the e-surfing 3G service fees will remain the same as that of 2G services. Besides, the company is expected to carry out the activity of free upgrading for both old and new clients. The original CDMA voice users in the province can enjoy 3G services as long as they buy 3G phones or change their network cards and activate upgrading function according to the prompting message. No changes of phone cards, phone numbers or registrations are required.