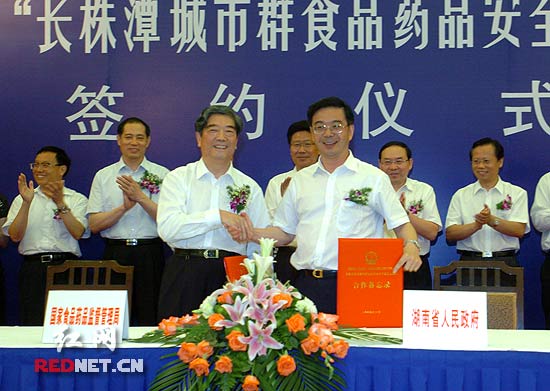 On the afternoon of June 15, a cooperation memo was signed between Hunan Provincial Government and the State Food and Drug Administration, aiming to establish Changsha-Zhuzhou-Xiangtan city cluster as a food and drug safety demonstration zone. The signing ceremony chaired by Hunan Vice Governor Liu Liwei was attended by Zhang Chunxian, secretary of Hunan Provincial CPC Committee and director of the Standing Committee of People's Congress of Hunan Province, Shao Mingli, director-general of China's State Food and Drug Administration, and Zhou Qiang, vice secretary of Hunan CPC Committee and governor of Hunan Province, and vice director of China's State Food and Drug Administration Li Jiping, Hunan leaders Mei Kebao, Guo Kailang, and Wu JIhai.
  The memo clearly defines the contents of cooperation between both sides. First, a highly effective food- drug monitoring system should be set up. An integrated monitoring network between the city and the countryside is expected to help construct the countryside network in terms of guaranteeing food and drug safety and ensuring their supply. Second, the construction of the technological platform for food-drug monitoring should be enhanced. Third, the establishment of a social credit system in the food and drug sectors is required, with public opinion playing a supervisory role in this regard. Last, food-drug monitoring capabilities should be improved.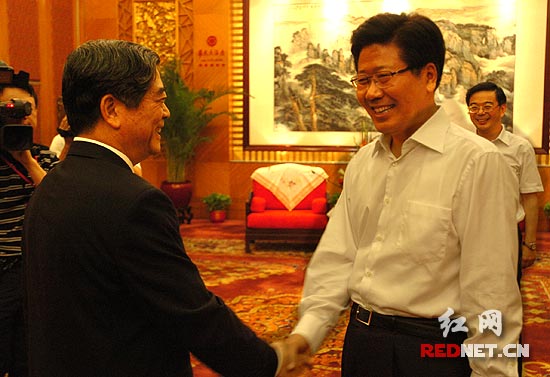 Secretary Zhang stated that Hunan had been striving to improve people's living standards while attaching great importance to the economic development. Enhancing supervision of food and drug is an embodiment of people-oriented spirit and a practical way to realize the scientific outlook on development. Besides, special attention should be paid to the capacity of food-drug supervision. He further pointed out that the measure to build Changsha-Zhuzhou-Xiangtan demonstration zone was in close accordance with the Central Government's policy of ensuring economic growth, improving people's living standards and maintaining social stability and that this measure would certainly win people's support. He hoped that both sides would enhance efforts to fulfill the tasks planned by the memo so as to better serve people.
  Shao Mingli positively agreed that in the long run, Hunan's economic and social development had been greatly accelerated in recent years and that Hunan Provincial CPC Committee and Hunan Provincial Government had made fruitful achievements in monitoring food-drug safety. He expressed that the State Food and Drug Administration would firmly carry out the terms written in the memo to establish Changsha-Zhuzhou-Xiangtan city cluster as a national model by providing Hunan with support in terms of policy, capital, talents and technology and other aspects.
  Governor Zhou Qiang extended his heartfelt thanks to the State Food and Drug Administration for its long-term care and support. He contended that this city cluster demonstration zone was an indispensable part of constructing the "Two-Oriented" Society. He urged the improvement of the food-drug monitoring system and credit system.
《三湘宣言》将走进长株潭 倡导食品药品安全诚信建设  红网长沙6月15日讯(记者 冯钧 摄影 明健飞 实习生 范婷)今天下午,湖南省政府与国家食品药品监督管理局在长沙签署合作备忘录,决定在2009—2013年,共同建设长株潭城市群食品药品安全诚信示范区。湖南省委书记、省人大常委会主任张春贤,省委副书记、省长周强出席签约仪式,并会见国家食品药品监督管理局局长邵明立。