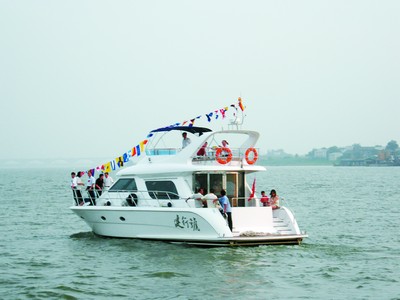 ("健行"号昨日湘江首航。李昕蕙摄 A private yacht, named as "Jianxing", sailed its first voyage on Xiang River yesterday. photo by Li Xihui)

 "在家乡的母亲河上,驾着我们湖南人自己造的游艇,这是我们终生难忘的事情!"昨晚,湘籍旅美画家李自健和妻子特别高兴,他们的私人豪华游艇"健行号",历经8000余公里的航程,穿过南海、东海,经过长江、洞庭湖,终于抵达长沙!
"It is unforgetable that, in our mother river , I sailed my own yacht made in Hunan. " Li zijian, an artist of Hunan, said to the reporter yesterday, after he and his wife sailed their private yacht on the voyage back to Changsha City, Hunan Province. The voyage last 8000 km, which traveled through South Sea, East Sea, Yangzi River, Tongting Lake, back to Changsha.
这艘由湖南知名企业自主设计、自行生产的豪华游艇,于昨日下午6时18分开始了它在湘江的首次航行。
The yacht is an luxury yacht made by a well-known enterprise of Hunan Province, which is independently designed, and its first voyage in Xiang River began at 18:18 pm on August 2.
游艇配有雷达导航系统、高频通信设备,冰箱、酒柜等一应俱全。
The yacht is equipped with radar navigation systems, high frequency communications equipment, refrigerators, wine cooler, etc.
"这艘游艇的设计理念和制造工艺都达到了世界先进水平,而且是我们湘籍企业自主设计、自行生产的!"李自健表示,这一点是他买下游艇的重要原因,"我们湖南人造的一点都不比国外的游艇差,而且价格仅仅是国外同类豪华游艇售价的四分之一。"
"The design and manufacturing techniques of this boat have reached the world advanced level. It is produced by a Hunan enterprise !" Li Jian said that an important cause for buying it lies that Hunan 's manufactured boat is not worse than the foreign ones, and the boat cost only one quarter of the price of a foreign-made yacht.