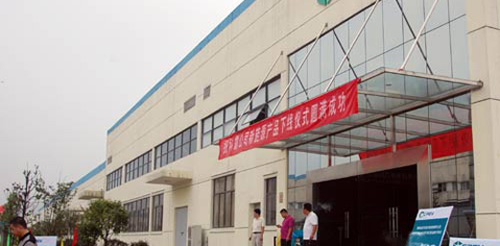 On the morning of August 6, China's first battery energy package of automobile power rolled off the full automatic production line in Hunan Copower EV Battery CO., LTD (Hereinafter referred to as the Copower Company), which indicates that China's new energy car has "Hunan power". Vice governor of Hunan Province Chen Zhaoxiong witnessed the momentous step made by the New-energy Automobile industry of Hunan.
According to principal of the Copower Company, it has completed the first fully automatic production line of battery energy package for automobile power. The floor area of the first construction phase covers 12,000 square meters, with the annual productivity of energy packages of automobile power battery for nickel hydrogen automobiles reaching 18,000, which is listed among the ten major industrialization projects in Changsha City.
Chen Zhaoxiong remarked that the energy shortage of Hunan necessitates the development of new energy industry.