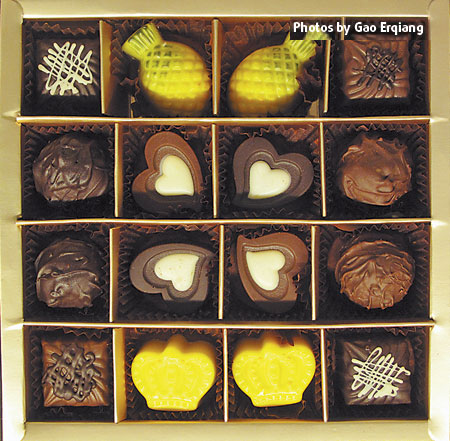 Featuring ingredients from Belgium, France and Japan, Baixas'handmade chocolates both look and taste the part.
Whether you like your chocolate cut into neat cube-shaped truffles or more elaborate roses or romantic heart shapes, this tiny treasure trove of saccharine self-indulgence on the 6th floor of Shanghai Times Square will surely not disappoint your craving for something cocoa-flavored.
What sets Baixas apart from the rest of the competition, however, is its unique set pieces.
A six-piece set of machine tools made from black chocolate, including a clamp, a hammer and a screwdriver, makes the perfect gift for gentlemen at 138 yuan.
For ladies, the shop can arrange its sumptuous chocolate sets to resemble handbags, high-heeled shoes or even bouquets of flowers.
Even the more discerning chocoholics in Shanghai should find what they are looking for among its 30 kinds of chocolate, mixed with milk, nuts, ginger and various liquors. All are handmade and hand wrapped to sit invitingly on the shop's counter.
Owner Gui Xing said he opened the shop in answer to his wife's dream to become a Chocolatier after they watched the French Oscar-nominated movie "Chocolate" in Shanghai in 2000 when their courtship was in full bloom.
Gui, who had previously worked at a chocolate shop on a part-time basis while studying in Japan, was thus inspired to start his own business.
In 2004 he opened a shop at Shanghai Infiniti Shopping Mall by adopting advanced chocolate-making techniques from Belgium, France and Japan. Earlier this year he moved to Shanghai Times Square, where a poster of the inspirational movie hangs on the main wall.
Gui said current best-sellers include original Nama bars (strong cocoa flavor), black chocolates with a creamy center and a crispy shell, and chocolates filled with a soft hazelnut puree covered in milk chocolate crisps.
In addition, an array of creamy ingredients tones down the bitterness to make the chocolates mild, sweet and palatable to Asian customers, he said.
Baixas'chocolates cost an average of 32 yuan per 50 grams. Shanghai Star Weekend readers can get a 10-percent discount by showing this issue of China Daily.
Baixas Chocolate Shop
Room 609 Shanghai Times Square, 99 Huaihai Road M.