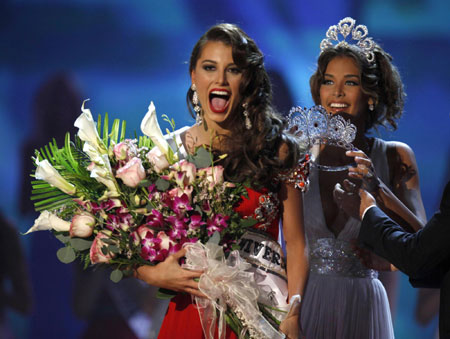 Miss Venezuela Stefania Fernandez (L) is named Miss Universe 2009 while 2008 Miss Universe Dayana Mendoza of Venezuela prepares to place the crown on her head during the annual pageant at Atlantis on Paradise Island in the Bahamas August 23, 2009. [Agencies]
HAVANA: Miss Venezuela was crowned the 2009 Miss Universe in Sunday night's pageant held in Bahamas, according to reports reaching here.
Stefania Fernandez, 18-year-old, became the 58th winner of the title in the show broadcast live around the world from the Atlantis, Paradise Island resort in the Bahamas.
Miss Dominican Republic, Ada Aimee de la Cruz, was the runner up.
Miss China, Wang Jingyao, was named Miss Congeniality and Miss Thailand, Chutima Durongdej, won Miss Photogenic.
It was the second consecutive year that a Miss Venezuela won the title. Venezuela have won the title five times.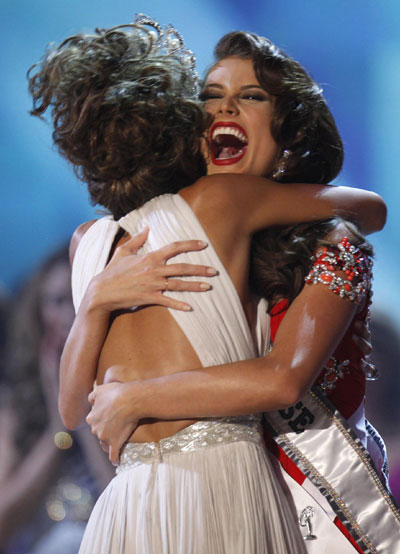 Reigning Miss Universe Dayana Mendoza (L) of Venezuela hugs Miss Venezuela Stefania Fernandez, winner of the Miss Universe 2009 annual pageant, at Atlantis on Paradise Island in the Bahamas August 23, 2009. [Agencies]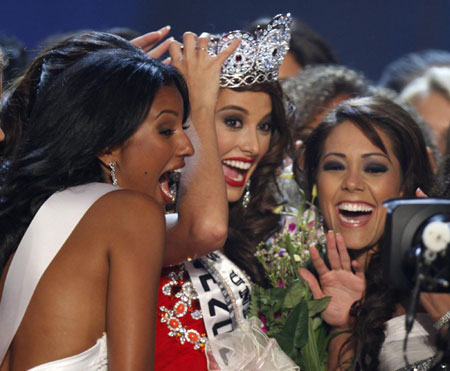 Miss Venezuela Stefania Fernandez (C) celebrates onstage with other contestants after being crowned Miss Universe 2009 at the annual pageant at Atlantis on Paradise Island in the Bahamas August 23, 2009. [Agencies]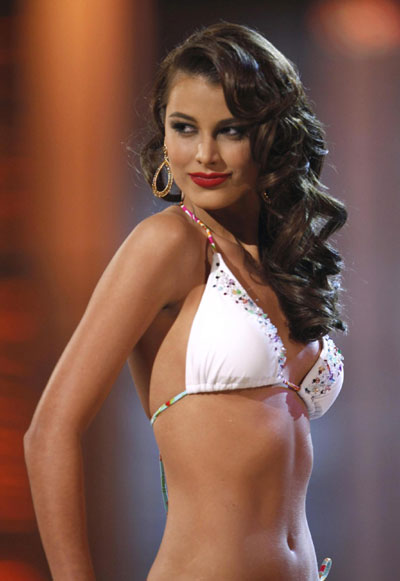 Winner of Miss Universe 2009, Miss Venezuela Stefania Fernandez, takes part in the swimsuit competition at the annual pageant held at Atlantis on Paradise Island in the Bahamas August 23, 2009. [Agencies]