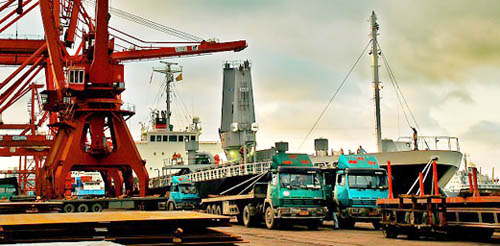 According to the statistics provided by the Changsha Customs, from January to November this year, Hunan's foreign trade volume amounted to 9.09 billion USD. Despite the overall decline in the sector compared with that of last year, the export value of November reached 500 million USD, significantly reducing the decline rate to 17.8%. The foreign trade in the province began to show a sign of recovery. 
  A customs officer analyzed that the impact the global financial crisis posed on the sector in the province became noticeable this year. The exports to European and American markets shrank a lot while the exports to African countries such as Algeria rose significantly. Besides, the imports of raw materials and key parts had a sharp increase.
  The economic downturn exerted less influences on the exports of labor-intensive products such as textiles, fireworks, firecrackers and agricultural products. It also had the least impact on the development of foreign-funded enterprises.
  In the past eleven months, the exports of hi-tech products from Hunan increased 5.2% and came to 260 million USD, while the imports of such products totaled 370 million USD, up 59.6%. The import and export value of agricultural products reached 180 million USD and 370 million USD respectively. It's predicted that this year Hunan's annual foreign trade volume will exceed 10 billion USD.
  Translator: Guo Yan
Related Reading:
本报讯(通讯员 张小辉 黄勇华 记者 李霞)长沙海关昨日最新统计称,今年1-11月,湖南省外贸额为90.9亿美元,比去年同期虽有下降,但11月份出口额达5亿美元,同比降幅大幅收窄至17.8%,外贸形势出现好转。
  
  据介绍,今年来湖南外贸受金融危机的影响明显显现。从市场结构来看,对欧美市场的出口受影响最大,对阿尔及利亚等非洲国家出口逆市大幅上扬;从企业结构看,外商投资企业发展势头受影响最小;从商品结构来看,纺织品、烟花鞭炮、农产品等劳动密集型产品出口所受影响明显小于其他类产品,而原材料、关键部件类产品进口快速增长。
  
  1-11月,湖南高新技术产品出口2.6亿美元,增长5.2%;进口3.7亿美元,增长高达59.6%。农产品进口1.8亿美元,增长24.2%,出口则达3.7亿美元。据预计,今年全年湖南外贸额有望突破100亿美元。