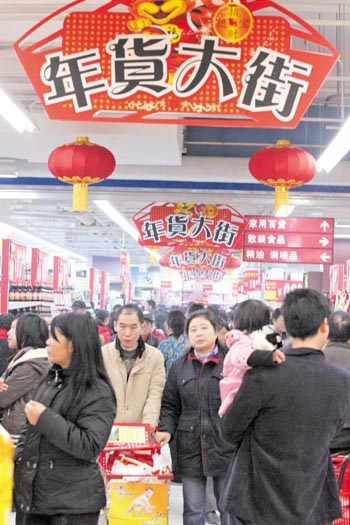 ¡¡¡¡On Jan. 30, the chain stores of Dolton Department Store and Dolton Wanhui £¨Best Saving£©Supermarket, two subsidiaries of Dolton Group Co., Ltd., went into operation in the Changsha Red Star Business District. These two chain stores and the branch of the Dolton International Hotel to be opened in this district will make up a large business complex covering an area of 60,000 square meters. The business complex will greatly satisfy the consumption demands of its neighborhood and the core district of the Chang-Zhu-Tan City Cluster.
¡¡¡¡Chain stores of four major businesses of the Dolton Group including the Dolton Electrical Appliances Store will settle down in the Red Star Business District. Relevant sources of the group said the district has considerable market demands. These chain stores will not only serve the consumers in the south of the Changsha City but also meet the consumption demands of Zhuzhou and Xiangtan locals. Yang Xinglong, director of the Changsha Commerce Bureau suggested that, in a bid to enhance the radiation role and attraction of Changsha¡¯s businesses, the city should concentrate on building up a regional consumption center and encourage the development and the establishment of large business complexes. Therefore, the operation of Dolton Group¡¯s chain stores in the district will surely play a positive role in expanding domestic demands and fueling consumption.
¡¡¡¡It was also revealed that Hunan¡¯s largest Outlets Shopping Center Project Phase I invested by Shanghai Outlets Brand Direct Sale Plaza Co., Ltd. is expected to be completed and to open for business this year. The whole project will be accomplished and put into operation in 2012.
¡¡¡¡Translator: Guo Yan