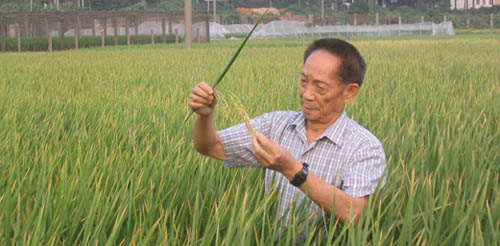 In recent years, Hunan has actively promoted the international cooperation in the sector of agriculture with hybrid rice acting as a trump card in the province's economic diplomacy. The statistics show that despite the global trade turbulence arising from the international financial crisis, the import and export volume of the agricultural products of Hunan Province last year totaled 463 million USD, with a year-on-year growth of 9.9%.
  Hybrid rice plays a unique role in the mutually beneficial cooperation between China and the Asian, African and Latin-American countries. Since the 1990s, the hybrid rice expert team led by Academician Yuan Longping went to Vietnam, India, America, the Philippines, Pakistan, Belgium and New Zealand, etc. several times to popularize hybrid rice technology and trained more than one thousand professionals for 30 countries and regions.
  Hunan-based enterprises are encouraged to go global through the platform of the national cooperative projects. In the past five years, the province carried out seven agricultural international cooperative projects including the South-South cooperative projects funded by the Food and Agriculture Organization of the United Nations (FAO), China's foreign aid projects and bilateral mutually beneficial cooperative projects. Hunan's foreign aid agricultural projects were highly hailed by the regions and countries that received the aids, which has also boosted the economic development of the province.
  Translator: Guo Yan
本报3月22日讯(记者 柳德新 通讯员 彭向阳)湖南省积极推动农业国际合作,杂交水稻成为经济外交的"王牌"。据统计,在国际金融危机引发全球贸易环境大动荡的背景下,我省去年农产品进出口总额4.63亿美元,同比增长9.9%。
  
  杂交水稻成为我国一张"经济外交王牌",在与广大亚非拉国家互利合作中发挥了独特作用。以袁隆平院士为首的杂交水稻专家,从上世纪90年代开始,多次赴越南、缅甸、印度、美国、菲律宾、巴基斯坦、斯里兰卡、孟加拉、比利时、新西兰等地推广杂交水稻技术,为30多个国家和地区培训上千名技术人才。
  
  以国家合作项目为平台,推动企业"走出去"。通过国际粮农组织的"南南合作"项目、中国政府援外项目和双边政府互利合作项目等形式,我省5年来实施农业国际合作项目7个。我省援外农业项目得到受援方高度称赞,同时带动了湖南经济发展。中南美洲、非洲等地区对我省农作物良种、农资、农机具采购额连年递增,雪峰种业在柬埔寨开展杂交西瓜种子生产,金健米业在泰国开展优质米加工,湖南茶业、唐人神、益华水产、湖南三利等企业出口额稳步增长。
  
  在"走出去"的同时,也积极"引进来"。国际经济组织对我省农业投资递增,省财政厅农业综合开发办引进世行贷款,共扶持杂交水稻、肉牛胚胎分割等高科技项目,惠及10万农户。