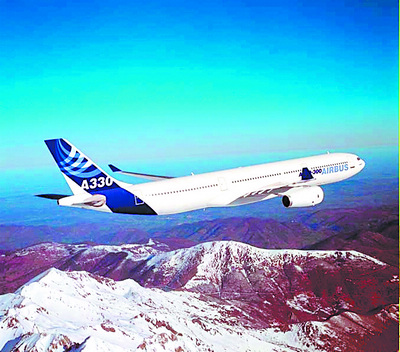 Airbus A330-300
  It is learned from the Changsha Border Defense Inspection Station of Hunan Border Defense Contingent on March 30 that the airbus A330-300, with 313 seats, will be adopted from April 1st by the Taiwan Mandarin Airlines (The company undertakes the direct flights between Taiwan and Hunan). This would be the first time since 1999 for Changsha Huanghua International Airport to try 300-seat airbuses.
  The ready for take-off airbus A330-300 has a passenger capacity of 313 with a flight range reaching 10,500 kilometers. It caters to all kinds of air routes and can be equipped with the most advanced entertainment system and airborne communication system.
  "Due to the length of the runway, the aircrafts in the Changsha Huanghua International Airport are subject to middle and small size with a passenger capacity below 180",,conceded Liu Hong, secretary of the Party Committee of the Changsha Border Defense Inspection Station. The 3,200-meter runway constructed last year is now in operation, which made it possible for large aircrafts' landings and takeoffs.
  Translator: Zhou Qiong
  本报讯(记者 彭玮蔚 通讯员 聂森峰 任彪 罗永)昨日记者从湖南边防总队长沙边防检查站获悉,从4月1日开始,担负湘台直飞任务的台湾华信航空公司将改用313座的空客A330-300型飞机,这将是长沙空港口岸首次运营300座以上大飞机。
  华信航空公司执飞的台北—长沙航班采用的空客A330-300飞机可载客313人。该机型是欧洲空中客车工业公司生产的两种先进双过道宽机身客机之一,也是A330系列较先进的型号,空间较大,航程可达10500公里,具有适应各种航线飞行的灵活性,效率比较高。该机型拥有最安静的客舱,并可配备最新型的机上娱乐系统以及新一代机载通讯功能,乘客和机组人员在空中能够保持和在地面一样的连接。
  "由于跑道长度的限制,过去黄花国际机场起降的多为中小型飞机,承载人数通常为180人左右。"长沙边检站党委书记、政委刘红告诉记者,去年,黄花国际机场完成3200米跑道延长工程并投入使用,给起降大飞机提供了条件。此次从4月1日开始运营的华信航空空客A330—300型飞机,将是长沙空港口岸自1990年开放以来首次运营300座以上的大飞机。