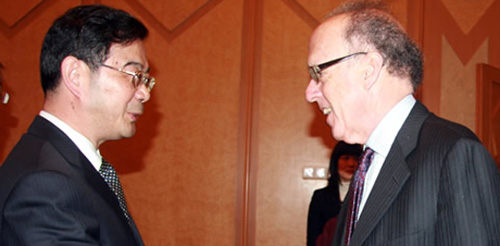 On the afternoon of April 12, Hunan Governor Zhou Qiang met with the delegation headed by the economist Stephen S. Roach, chairman of Morgan Stanley Asia Limited.
  Morgan Stanley is a global financial service provider headquartered in New York City, United States, providing various financial services such as securities, asset management, merger and acquisition of enterprises, and credit cards, etc.
  Governor Zhou extended his warm welcome to the delegation. Mr. Zhou said that Hunan has established friendly cooperation with many financial securities institutions including Shanghai Stock Exchange, Shenzhen Stock Exchange, and Hong Kong Exchanges and Clearing Limited. He hoped that Hunan will take Mr. Roach's visit as an opportunity to promote and deepen cooperation between both sides, thus building a broader financial platform for Hunan's fast and sound development.
  Mr. Roach believed that Hunan's strong development momentum will further accelerate the bilateral cooperation. He was willing to strengthen the cooperative ties and provide financial services for Hunan's development so as to achieve a win-win situation.
  Translator: Qiu Zhuanzhuan
本报4月12日讯(记者 孙敏坚 通讯员 邓高红)今天下午,湖南省委副书记、省长周强在长沙会见了美国摩根士丹利公司亚洲区主席、著名经济学家罗奇一行。
  
  摩根士丹利公司(MorganStanley)是一家成立于美国纽约的国际金融服务公司,提供包括证券、资产管理、企业合并重组和信用卡等多种金融服务,目前在全球28个国家的600多个城市设有代表处。
  
  周强欢迎罗奇一行来湘访问。他说,当前,湖南面临国家实施中部地区崛起战略、长株潭城市群"两型社会"试验区建设、全球及沿海产业向内地转移等难得的历史性发展机遇,已进入经济社会的快速发展时期,为金融的发展提供了巨大平台。湖南历来高度重视发挥金融和资本市场对经济的支撑作用,充分发挥人才、资源以及综合营商成本低等优势,出台了一系列政策,鼓励有条件的湖南企业在境内外上市融资,以促进产业结构调整升级,延长产业链,提高企业管理水平和竞争力。目前,湖南已与上海证券交易所、深圳证券交易所、香港交易所等境内外金融证券机构建立良好合作关系,希望以罗奇先生来访为契机,推进和深化湖南与摩根士丹利的合作,为湖南实现又好又快发展搭建更广阔的金融平台。
  
  罗奇认为,湖南的良好发展态势,为推进和深化双方合作创造了条件。表示要进一步深化摩根士丹利与湖南之间的合作,为湖南的发展积极提供金融服务,实现合作共赢。
  
  省直有关部门负责人参加会见。