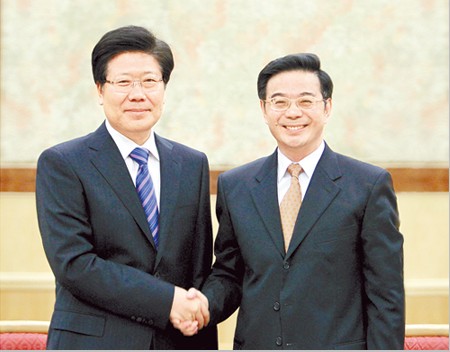 BEIJING: Zhang Chunxian has been appointed as the Party chief of northwest China's Xinjiang Uygur Autonomous Region, according to the Communist Party of China (CPC) Central Committee on Saturday.
  Former secretary of the CPC Xinjiang regional committee Wang Lequan has been appointed as deputy secretary of the Political and Legislative Affairs Committee of the CPC Central Committee.
  Before the appointment, Zhang served as the secretary of the CPC Hunan provincial committee starting from December 2005.
  Zhang, 57, a native of Yuzhou City in central China's Henan Province, joined the CPC in 1973.
  Zhang has served in the then Ministry of Machinery, the Ministry of Supervision and the China National Packaging and Food Machinery Corporation, as well as assistant governor of southwest China's Yunnan Province.
  Zhang served as the transport minister from 2002 to 2005 before he was transferred to Hunan Province.
  Zhang's appointment was announced just one day after the CPC Central Committee Political Bureau held a meeting to discuss plans to boost economic development and maintain long-term social stability in Xinjiang.
  The meeting, presided over by President Hu Jintao, stressed that economic and social development in Xinjiang be pushed forward in a sound and speedy manner, placing priority on guaranteeing and improving people's livelihoods so all ethnic groups in the region can live a more prosperous and happier life.