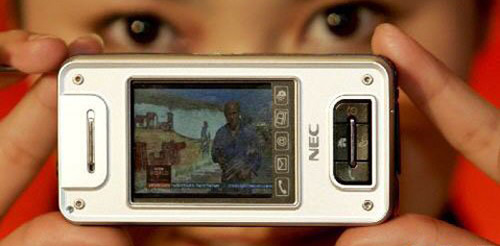 On the morning of May 17, Golden Eagle Broadcasting System (GBS) and China Mobile, Hunan Branch signed a strategic cooperation agreement in Changsha and declared the official launch of the jointly-made mobile TV service in Hunan. Lu Jianping, director of the Publicity Department of the Hunan Provincial CPC Committee, addressed the signing ceremony.
  For over 20 million customers of China Mobile in Hunan, it means that as from this day, they can watch TV or listen to the radio at any time and in any place as long as there is a built-in mobile TV module in their cell phone.
  Director Lu stated that the commercial use of mobile TV in Hunan serves as a positive step toward integration of three networks (telecommunication, cable TV and the Internet). The cooperation between GBS and China Mobile meets the development requirement of information age, and plays a significant role in promoting "Two-Oriented" Society construction in Hunan and building up a powerful province through culture. He hoped that both sides should display their respective advantages, promote mobile culture, develop new medium forms, strengthen culture industry and meet various spiritual and cultural needs of the people.
  Translator: Zhang Minsi