编者按: 红网英文频道继续推出双语特刊《双语看湖南》,为你梳理近来双语形式的湖南动态新闻、社会和文化热点。今天继双语两会特刊的前九期,推出第十期。
  李克强总理在政府工作报告中说:"生态环保贵在行动、成在坚持,我们必须紧抓不松劲,一定要实现蓝天常在、绿水长流、永续发展。""生态文明"、"环境保护"成为2015年全国两会中的热词,在湖南的代表委员中,也频频成为关注点。那么,湖南在生态、环保方面有哪些举措,做出了哪些成就。
  "In ecological protection, progress comes only through action, and success only through persistence. We must take a firm and unrelenting approach in this work, to ensure we always have blue skies, lucid waters, and sustainable development." Premier Li Keqiang has stated in the Report on the Work of the Government at the Third Session of the 12th National People's Congress on March 5, 2015. "Ecological civilization" and "environment protection" have been the hot words during national Two Sessions and the focused topic of Hunan delegation's discussion. Let Rednet editors tell you what achievements in ecological and environmental protection Hunan have made recently till this Spring.
  湖南打造"天蓝水碧"环境新常态
  Hunan Create New Ecological Environment of Blue Skies and lucid waters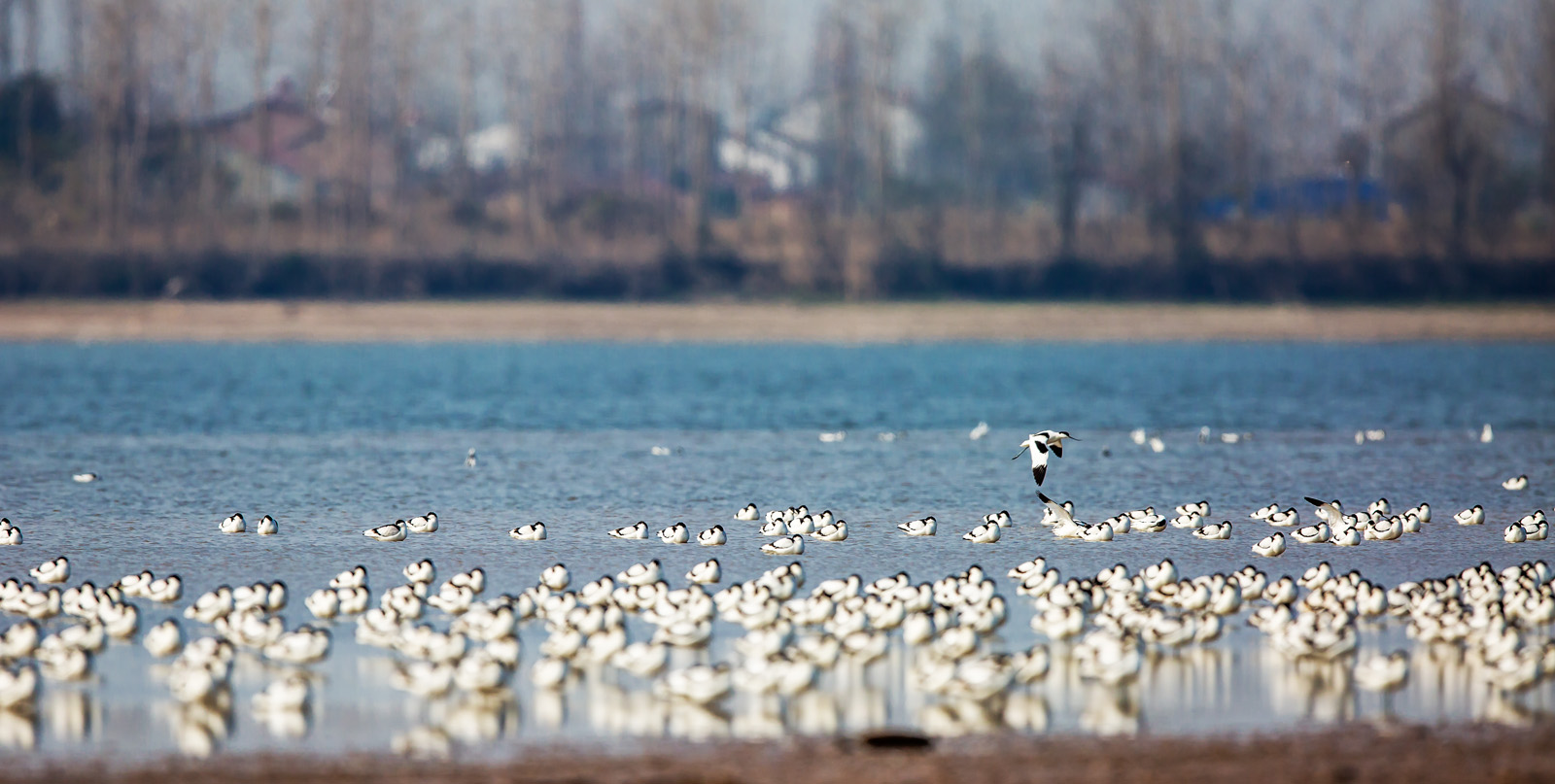 ---
  全省森林覆盖率达59.57% 徐守盛杜家毫参加义务植树
  Hunan forest coverage rate reaches 59.5% , Xu and Du Call for More Volunteer Tree Planting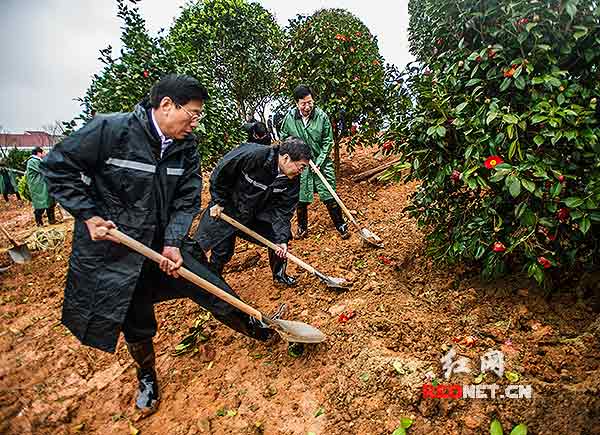 (In the morning of March 18, Xu Shousheng, Secretary of Hunan Provincial Party Committee, the provincial standing committee director and Du Jiahao, Governor and Deputy Secretary of Hunan CPC come to Lei Feng Park to take part in the voluntary tree-planting.)
  徐守盛表示,植树要通过精细化管理,做到栽植一株,成活一株。同时,要科学规划,把义务植树和城乡绿化一体化建设等结合起来,构建起城乡融合的森林生态体系。
  Xu Shousheng said that tree planting should be fine managed to ensure that every tree planted can survive. At the same time, we should combine voluntary tree-planting with the integration of urban and rural greening construction to construct urban-rural integration forest ecosystem.
  林业部门统计,湖南省累计参加义务植树人数已达8亿人次,义务植树39.96亿株。随着全民义务植树运动的开展,湖南的生态环境得到明显改善。目前,全省森林覆盖率达59.57%,全省县城以上城镇人均公园绿地面积达8.38平方米,建成区绿化率达34.11%。
  According to the statistics of the forestry sector, the number of Hunan people joining the voluntary tree planting has reached 800 million and 3.996 billion trees are planted. With the development of the voluntary tree planting activity, Hunan's ecological environment has been improved a lot. At present, the provincial forest coverage reaches 59.57%, urban park green land area per capital reaches 8.38 square meters,the greening rate of built up area reaches 34.11%.
  徐守盛说,良好生态环境是最公平的公共产品,是最普惠的民生福祉,要继续深入开展全民义务植树运动,努力增加森林资源,提高资源环境承载力和生态产品供给能力,不断满足人民群众对清新空气、清澈水质、清洁环境的殷切期盼。  
  Xu said that sound ecological environmental is the fairest public products, the most favored well-being of the people's livelihood. We should continue to promote voluntary tree planting, make more efforts to increase forest resource, enhance resource environmental bearing capacity and ecological products supply ability, constantly live up to people's expectation for fresh air, clean water and sound environment. [Full story] 
---
  湖南省长杜家毫调查湘江水质
  Governor Du Jiahao investigate the quality of Xiangjiang River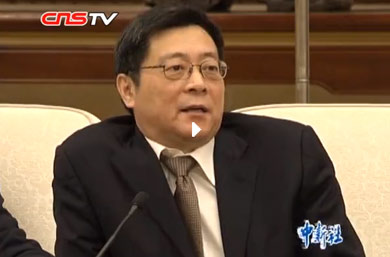 3月5日,在十二届人大三次会议湖南团开放日上,有记者向全国人大代表、湖南省长杜家毫抛出有关"湘江治污"的问题。杜家毫首先跟记者分享了一个他调查湘江水质时被老百姓说"傻"的经历。
  Du Jiahao, the deputy of the National People's Congress and the governor of Hunan province, answered a question about the treatment of Xiangjiang River's pollution on March 5, the open day of Hunan delegation during the 3rd session of the 12th CPPCC National Committee. He told the reporter a funny story that his questions on investigating water pollution of Xiangjiang River had been regarded as "silly questions" by average citizens of Changsha.
  杜家毫说:"大年初二我骑着自行车,从长沙市中心沿湘江往北,从营盘路一直到郊区,两个小时。也跟沿湘江的边上的老百姓做了一些座谈,就我一个人。我在沿江也看到了很多老百姓,在湘江上钓鱼。我问了几个老百姓,说你在这边钓鱼,你能钓到鱼吗?他说你这个问题怎么问得这么"傻"呢,我不能钓到鱼我站在这边钓干什么?我说你一天能钓到多少?他说少则十几斤,多则五十多斤。这是那个老百姓告诉我的这样一个数据。"
  Du said with a smile that he was riding a bicycle alone, from the central Changsha city to the north of Xiangjiang River,on the second day of Chinese new year, which took him two hours'ride from Yingpan Road to suburbs. Along his ride, he talked with some citizens who were fishing by the side of Xiangjiang River. When Du asked one person, "can you get fishes here?", he answered that my question was silly, and he said ,"if I cannot get fish by fishing, why would I be here? " Therefore, I asked him how much fish he has fished a day usually, and he said a dozen ponds at least, and sometimes 50 pounds at most. "This is the data I have got by average citizens," said Du.
  一个三年计划,重点是堵住污水源头。堵什么东西?工业污水要堵住,不能往湘江流。第二个,生活污水要堵住,不能往湘江流。第三个,畜禽排便污水不能往湘江流。这一个目标应该说到去年年底基本达到了。
  Du said that the achievements of pollution treatment in Hunan was attributed to the three "Three-year-plan Action". The major work of the first three-year plan is blocking off the source of polluted sewage flowing to Xiangjiang River, which is undergoing by now. The second three-year-plan is banning living sewage to Xiangjiang River, and the excrement of animals is the third three-year-plan. And the first plan has been substantially realized by the end of last year.
---
  生态文明建设  
  The Construction of Ecological Civilization
  
  120余名志愿者橘子洲骑行宣传节约用水
  
  Hunan Celebrates World Water Day 2015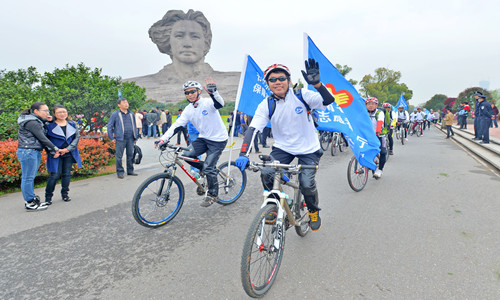 3月22日湖南省节约用水办公室主办的2015年"世界水日"、"中国水周"宣传活动在橘子洲景区启动。该活动旨在呼唤全社会节约水资源,保障水安全。来自湖南省水利厅、省水电职院、省水电设计院、长沙市水务局等单位的120余名志愿者开展骑行活动,并向景区游客免费发放相关资料,宣扬节约用水理念。
  March 22, 2015 is the 23rd World Water Day, and March 22 to 28 is the 28th China Water Week. The Water Saving Office of Hunan Province initiated an activity to mark the two events on Orange Isle on March 22, calling for the preservation and safety of water. After the ceremony, more than 120 volunteers rode bikes and gave out water conservation brochures to tourists for free.
  省水利厅厅长詹晓安介绍,湖南用水总量到2030年要控制在360亿立方米,也是湖南省水资源管理的"控制红线"。
  Hunan Province has limited water resources but great potential for water saving. Zhan Xiaoan, director of the Department of Water Resources of Hunan Province, said that the state has been implementing the strictest water resources management system, stipulating a red line for Hunan: the total water consumption of the province shall be curbed to an annual rate within 36 billion cubic meters by 2030. [Full story ]
  
  湖南大学生"把脉"母亲河水质迎世界水日
  
  College Students Test Water Quality of Xiangjiang River to Mark World Water Day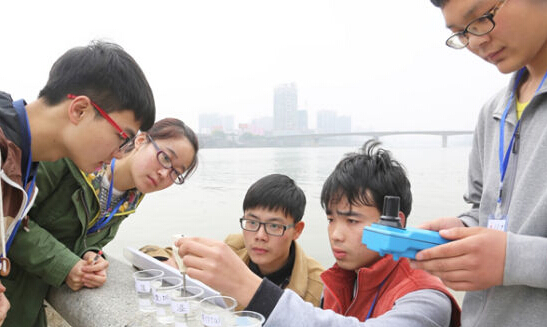 3月19日,湖南南华大学保护母亲河监护队的志愿者正在对湘江水质进行监测,以此迎接世界水日的到来。南华大学保护母亲河监护队主要致力监测与保护湖南母亲河湘江的水质,被共青团中央、环保部授予"全国十佳环保公益社团"称号。
   To celebrate the World Water Day, volunteers from the "mother river protection team" of University of South China in Hunan tested the water quality of the Xiangjiang River, mother river of Hunan, on March 19. The team, devoted to monitoring and protecting the Xiangjiang River, has been honored one of the "Top 10 National Public Welfare Associations for Environmental Protection" by the Communist Youth League of China and the Ministry of Environmental Protection of the PRC. [Full story] 
---
  节能减排
  Save energy and cut waste
  株洲成全国首个公交电动化城市每年可节油近220万升
  Zhuzhou has been the first city of electric public transit in China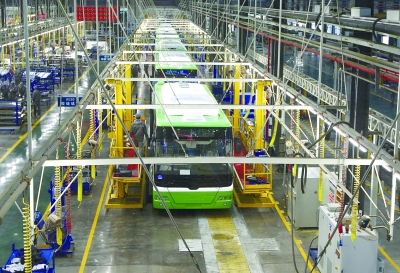 株洲成全国首个公交电动化城市,每年可节油近220万升,有害物减排近1.5万吨。株洲城区现有绿色公交车运行总里程逾4566万公里,载客11554万人次,平均节油率达15%以上,每年可节油近220万升,减少二氧化碳等各类有害物质排放14730吨,民众形象地比喻株洲公交换了"芯",城市换了"肺"。
  Zhuzhou has been the first city of electric public transit in China, which could save around 2.2 million liters of gasline and reduce about 15 thousand tons of harmful emissions . The total distance of green buses' transit covers more than 45.66 million kilometers in Zhuzhou city, with the capacity of carring 115.54 million customers, oil conservation with an average rate of 15% and 2.2 million tons every year, as well as the reduction of 14.73 thousand tons of harmful emissions like CO2. The people of Zhuzhou praised that the buses has changed "engine" and the city has changed "lung".
  空气质量 Air quality
  长沙防治大气污染打出"组合拳"
  Symthetic managements of air pollution in Changsha City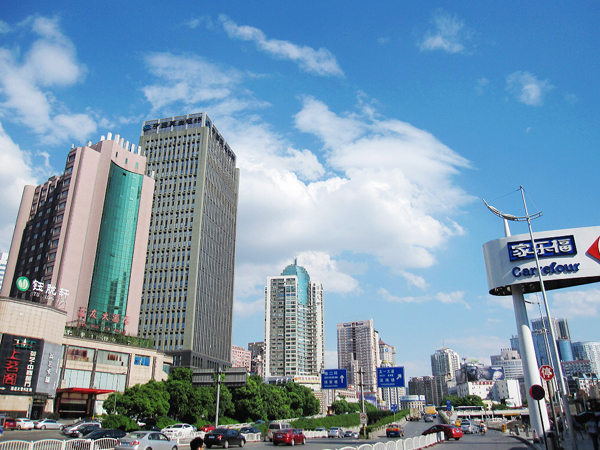 (湖南空气质量达标天数上升长株潭比前年上升7.2%。 Good air quaility days of Hunan in lasts year raises 7.2% of the year of 2013)
  近年来,人们对空气问题越来越关注。今日,记者从湖南省环保厅了解到,2014年,湖南按新标准监测的6市平均达标天数比例为67.4%,长株潭达标天数比2013年上升7.2%。
  In recent years, people have an increasing concern of the air pollution. According to the Environmental Protection Department in Hunan, the rate of days for reaching air quality standards in 6 cities in Hunan has reached 67.4% under the new monitoring standard. The rate in the district of Changsha, Zhuzhou, Xiangtan has raised by 7.2%. 
红网英文频道综合报道 编译:李莎宁 实习生 张桂琪
往期回顾: