春已至。心之所往,只有以脚步丈量,才不负春光。湖南省旅游局、湖南红网联合发布湖南最美50个赏花地,这些地方你都去过吗?

When Spring comes, anyone should smell the flowers and enjoy golden moment of a year in the nature. Fifty most beautiful spots in Hunan Province for Spring flowers published by Hunan Provincial Tourism Bureau and Rednet.

  梨花,静美世界

  花期:一般花期为3-4月,2016年普遍花期提前到2月底-3月,海拔高则开至4月上旬。

  Pear Flowers
Peartree blossom came out early in Hunan this year in February and March, with beautiful white, rarely tinted yellow or pink blossoms.


 蓝山大洞梨园 Lanshan Dadong Pear Garden , Yongzhou City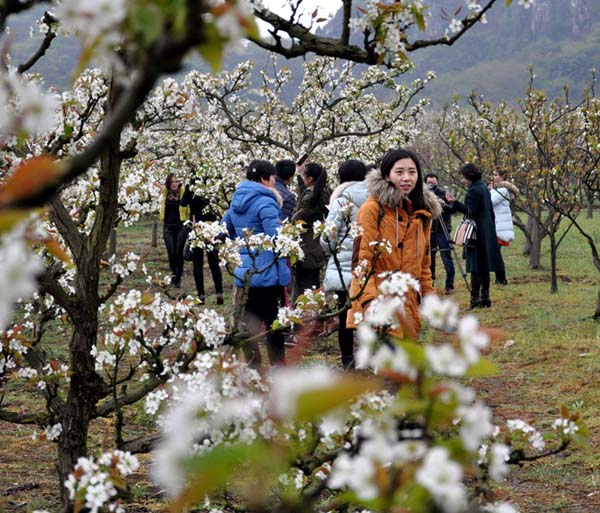 Thousands of pear flowers bloom at one night. Photo by Yangxiongchun, Source: Photorednet

   一夜春风蓝山梨园万树花开 yangxiongchun拍摄 )


  以蓝山县大洞村为中心,梨花向周边连绵可达万余亩。这里品种以黄花梨居首,翠冠梨次之,本是果园,每年梨花开时仍吸引数万人观看。园内有千余亩天然石群,与梨园浑然一体。置身梨园,花开时节,如一片冰清玉洁的世界。

Around Dadong village, a pear orchard of ten thousand acres with nature rocks, attracts thousands of people each year to appreciate flowers in Spring. Being in the sea of pear flowers, one seems the pure world of blossoms.


   怀化排牙山国家森林公园 Paiyashan National Forest Park

怀化靖州排牙山林场梨花盛开场景。 Paiyashan National Forest Park in Jingzhou County, Huaihua City
 
  林场内连片金秋梨树两千亩,周边山林农户也都种有梨树,约有近万亩的金秋梨树。冬去春来,山花烂漫,醉美排林梨花开!来到排林,登高远眺,梨园一片连着一片,一山接过一山,密密麻麻的梨花融成一片白茫茫的花海。

When spring comes, ten thousand of pear blossom make a great view of a flower sea including 2000 acres of pear trees and nearby farms'pear woods in the surrounding mountains of Paiyashan National Forest Park. With the ups and downs of hills, white blossoms of pear trees form the flora waves in the mountains.

   观梨花坐标:永州零陵区接履桥镇甸尾头村甸尾头梨园、怀化洪江市大崇乡砂溪村、娄底市新化县吉庆镇、邵阳市邵东县魏家桥镇翰林农庄。
     
Other scenic of pear flowers : Dianweitou pear Garden, Lingling Area, Yongzhou City; Shaxi Village, Hongjiang City of Huaihua,Jiqing Town of Xinghua County, Loudi City; Laolin Farm in Shadong County, Shaoyang City


Original link: 湖南这50个花花世界不能负 是你决不能负的春光
Rape Flowers, a Romantic World  油菜花,烂漫世界
  
  如果说能有哪种花儿最能让人忆起童年时光,又洒脱地以扑面而来的花海迎接我们,那必是油菜花无疑了。今年湖南大部分地区油菜花盛开较早,花期在3月-4月中旬。
  
What kind of flowers let most people to recall their childhoods and to revive their vitality ? It is no doubt rape flowers. Rape flowers blossom in mid-March to April in most parts of Hunan Province earlier this year.
  

  
张家界罗水乡龙凤梯田。 Longfeng terraces of Luoshui County, Zhangjiajie
  
     张家界市永定区罗水乡龙凤村, 广阔的梯田上种有10万余亩油菜花。
  
The terraces of Longfeng Village have 100,000 acres of rape flowers, Luoshui County, Zhangjiajie City.
  


  
 常德十美堂油菜花海,游客们在水上观赏油菜花。 Tourists can take boats to see rape flower field of Shimeitang , Tingcheng Area, Changde City.
  
   
 常德鼎城区十美堂镇鸟儿洲湿地
  
   油菜花种植面积约3万余亩。湿地观景,可以乘坐游船,穿行在澧水古洪道中。花海中布置了观花海的游廊和观景台,您可以游走在花间,与花亲密接触和俯瞰万亩花海胜境;其中,十美堂镇网络式路网格局为原形打造的油菜花迷宫,将让游客感受到迷宫的乐趣;在花海景区修建的专门栈道,是一条铺驾在油菜花海里的一条形似"北斗星"的观光游道,可在道上观光、留影。
  
Shimeitang has a 30,000-acre rape-growing field, in Tingcheng Area, Changde City.With a wetland view, tourists can take boats among the flowers through the river branch of Lishui River. With close contact and overlooking thousands acres of rape flowers, tourists can experience the fun in a maze with network pattern, or on a specifically designed plank road.
  
  长沙望城区茶亭镇 Rape Flowers in Chating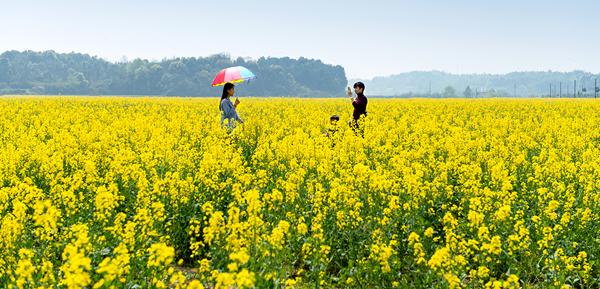 长沙茶亭镇油菜花 清风随影之过客拍摄 Source: Photorednet
  
  这里的油菜花有两种开得最美。一种是开在梯田里的油菜花,层层叠叠的梯田,让她们开得波澜壮阔,开得高高低低,开得错落有致。一种是开在水边的油菜花,她们和小河相间,小河和菜花互相明媚着。油菜花田面积共近8000亩。
  
There are two kinds of flower fields in Chating making up of the most beautiful scene of 8,000 acres of flower field: blossoms on terraces forming the waves various layers from high to low; the other blooming by water's edge, a river glittering among the flowers.
  
观油菜花坐标:长沙湘江边赏油菜花、长沙县江背镇、浏阳达浒镇象形景区、浏阳市高坪镇浏阳河湾、古风洞景区、慈利县通津铺镇长峪铺村、岳阳市君山区良心堡镇、岳阳市平江县长寿镇、株洲市炎陵县、株洲攸县柏市镇、湘潭县石鼓镇、永州道县万家庄乡五洲村、娄星区小碧乡双峰锁石镇、涟源市斗笠山镇、湄江镇;邵阳武冈市山岚铺、拦马江、望云寺、邵阳武冈市渡头桥村、邵阳市隆回县北山镇易坪村、洪江市硖洲乡秀洲村、怀化市中方县桐木镇葡萄沟景区、麻阳兰里岩寨梯田赏油菜花、益阳市南县罗文村。
  
Other rape flower fields: Xiangjiang River in Changsha City, Jiangbei County in Changsha, Dahu County, Liuyanghe River Bay and Gufengdong Site in Liuyang City, Changyupu Village of Tongjinpu Town in Cili County, Liangxinbao County and Changshou Town of Yueyang City, Yanling County and You County in Zhuzhou City, Shigu Town in Xiangtan County, Wuzhou Village of Dao County in Yongzhou City, etc.
  
桃花,妖娆世界 Lands of Peach flowers, Spring beyond This World 

  花期主要为3月-4月上中旬。 Peach flowers bloom in March and April.

新化县奉家镇下团村之〔古桃花源〕 杨升根 拍摄 来源:红图汇 Tuan Village in Fengjia Town, Xinghua County, Source: Photorednet
真正的桃花源在哪儿?走进雪峰山脉中段的新化县奉家山腹地,您曾经坚定不移的判断就会有所动摇。

Many people may ask where is Peach Blossom Land, the Peach Spring beyond this world, in a fable by Tao Yuanming in year 421 about a chance discovery of an ethereal utopia where the people lead an ideal existence in harmony with nature, unaware of the outside world for centuries. When you walk into the interior Fengjia Mountain of the middle part of Xuefeng Mountain, Xinhua county of Hunan Province, you will assure that it is the place.


 炎陵有黄桃,春来桃夭夭 Blossoms of Yellow Peach Trees in Yanling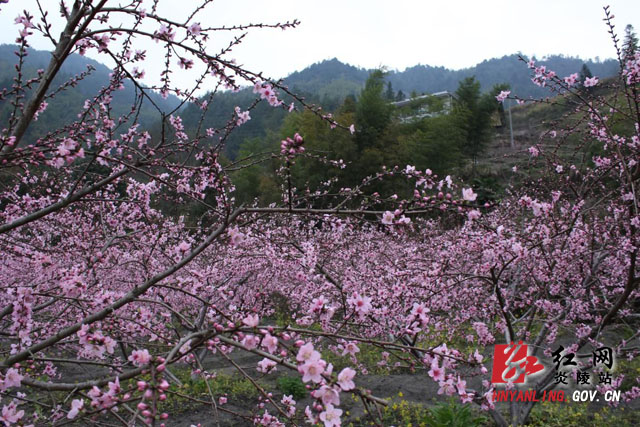 沐浴着春日的阳光,行走在万株桃树间,呼吸着桃花的芬芳,一眼望去粉红、绛红、绯红、深红的花瓣层层叠叠,如同置身一个热闹的粉色桃花源。当桃花盛开的时候,团团簇簇,那样毫无保留地绽放,热烈得没有一点隐藏。

Bathed in spring sunshine, walking among the peach trees, one can breathe the fragrance of peach flowers of pink, crimson and scarlet in the peach garden in Yanling, Zhuzhou City.

  观桃花坐标:常德鼎城区周家店镇、长沙梅溪湖桃花岭公园、宁乡县灰汤镇东鹜山桃花谷、怀化市麻阳县兰里镇兰里横喇赏桃花和梨花、永州市新田县骥村镇乌下村桃花、张家界慈利县南山坪乡新坪村南山桃源、张家界市永定区尹家溪镇长茂山长茂山桃园、张家界八大公山蹇家坡村桃花秘境、邵阳市武冈县邓元泰镇、红石村武冈红石村桃花、湘西州吉首马颈坳镇枫香村桃花山庄。

Other fields of peach flowers: Zhoujiandian County in Changde City, Mixihu Garden in Changsha City, Huitang town in Ningxiang County, Lanli Town of Mayang County in Huaihua City, Xintian County in Yongzhou City, Cili county, Yongding Area and Badagong Mount in Zhangjiajie City, Wugang County in Shaoyang etc.

  樱花,唯美世界 The World of Sakura

  云南早樱等早樱品种在2月下旬至3月上旬开放,染井吉野樱等品种开放时间约为3月上旬,晚樱品种可开到4月中下旬。

Early Sakura of Yunan blooms in February and March in Hunan, and late Sakura blooms mainly in April.



桃江老木盆野樱花群落。Sakura flowers in Laomupen Woods, Taojiang County , Yiyang City


   桃江松木塘野樱花

  阳春三月,桃江县松木塘镇老木盆林场野樱谷有近野樱花陆续开放。林场位于松木塘镇南河冲村,属于原生态森林,境内灌木丛生,上万亩野樱花争相开放,景色美不胜收。

Wild Sakura flowers bloom in Laomupen forest, Taojiang County , Yiyang City in the early Spring. Wild blossom turns the forest into a fancy world of flower in Spring.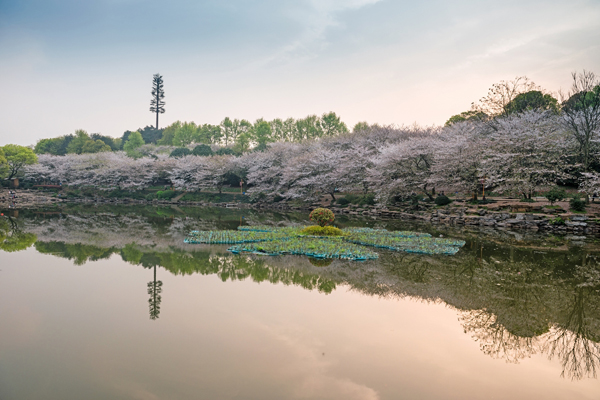 长沙湖南省森林植物园 清风随影之过客 拍摄 来源:红图汇  Hunan Forest Botanical Garden, Changsha, Source: photorednet

樱花沿湖开放,在这里我们除了可以观赏樱花还可以看到郁金香、杜鹃花等多种世界名花。面积共800亩,是离长沙市区最近的最佳樱花观赏地。

Besides sakura, people also can appreciate tulips, azaleas and other flowers along the "Sakura Lake"in Hunan Forest Botanical Garden. With 800 acres of field, it is the best place to smell the flowers in Changsha.

  观樱花坐标:长沙园林生态园、长沙晓园公园、邵阳市邵东怡卉园、怀化市谭家寨赏野樱花、湘西州凤凰县香薰山谷樱花园。

People can go to Changsha Ecological Park , Changsha Xiaoyuan Garden, Yihui Garden in Shaoyang City, Tanjiazhai in Huaihua City, Fenghuang County Xiangxi Prefecture Area .

杜鹃,热情世界 Azaleas Bring out Passion of the Spring


   野生杜鹃多长在山中,开放时间也由品种及海拔各有不同。一般来说,杜鹃花期在4-5月。

Wild azaleas grow in mountains, with different blooming time according to the variety of altitude. In general, the azaleas bloom in April or May.
  
大围山漫山杜鹃花开放。 Dawei Mountain, Liuyang city

  浏阳大围山拥有华中地区规模最大的原生态野生杜鹃花群落,这里万亩野生杜鹃主要分布在海拔1200米以上的溪谷及山坡,由于地势与种类差异,大围山杜鹃花的观花期可延续近一个月。登临五指石,看到整个山头将姹紫嫣红,成千上万亩杜鹃漫山红遍。   

Dawei Mountain has the largest original azalea field in central China, located in the valley and the slopes at the altitude above 1200 meters. These azaleas flowering period may be extended for nearly a month. People can see thousands of acres mountain being rhododendron red all over.

        


张家界罗峰山盛开的杜鹃花。Blooming azaleas in Luofeng Mountain, Zhangjiajie City.
   张家界罗峰山杜鹃花上千亩,2014年当地被中国摄影家协会定为杜鹃花摄影基地。
The Azalea field of Luofeng Mountain is a base of China Photographers Association.

   观杜鹃花坐标:永州阳明山、株洲炎陵大院农场原生云锦杜鹃花海、张家界慈利四十八寨。   
Other places of watching azaleas: Yangming Mount of Yongzhou City, Yanling County of Zhuzhou City and Sishibazai Village of Cili County in Zhangjiajie.

美丽风景:
Changsha maglev "flower express" to be built in May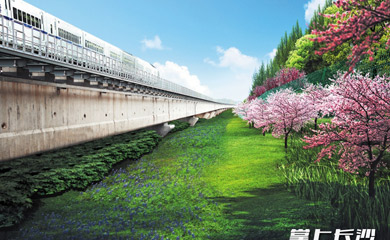 长沙磁浮生态绿带走廊建成后将成为养眼的景观带。(效果图)长沙县黄兴会展经济区管委会 供图一期工程将以"宜林则林、宜花则花、应绿尽绿"的原则对磁浮沿线两厢范围内适宜栽植的土地进行复绿,并对原生态自然山体、水塘进行提质和保护,预计建设面积约7140亩。

The picture shows the rendering of future Changsha Maglev "flower express" which will be the eye-pleasing landscape. The view seeing area along the high-speed "Flower Express" maglev trains is planed to be built for 7140 acres of tourists' spring outing
area.


Flora Exposition shown in Hunan Forest Botanical Garden

湖南省森林植物园花展开幕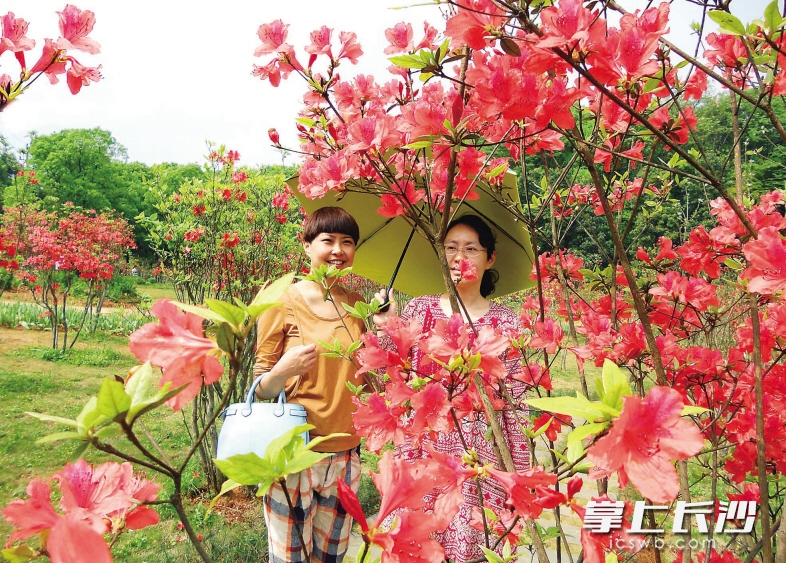 昨日,成片盛开的来自井冈山的映山红吸引了众多市民、游客驻足拍照留念,感受映山红独特的艳丽。长沙晚报记者 周柏平 摄

Acres of blooming azalea from Jinggangshan has attracted many people and tourists to take a photos and to feel gorgeous nature of Spring.

Spring scenery across in Zhangjiajie


   Tourists view flowers at a park in Zhangjiajie, central China's Hunan Province, March 2, 2016.

Spring scenery attracts visitors in Yongzhou
  People visit a bauhinia field in Jiangyong County, Yongzhou City of central China's Hunan Province, March 12, 2016. Spring scenery attracts visitors as the temperature climbs up across China.