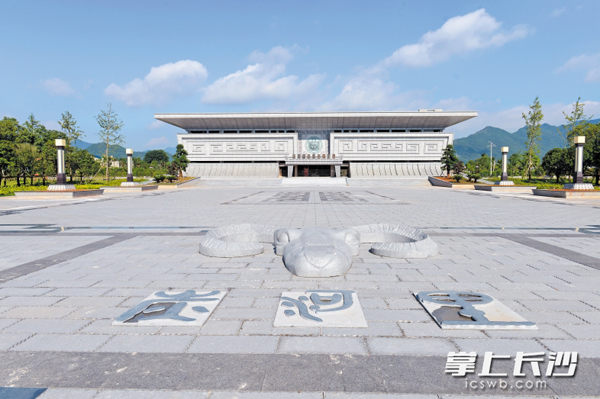 Tanheli Bronze Cultural Museum and the front square (the realistic image)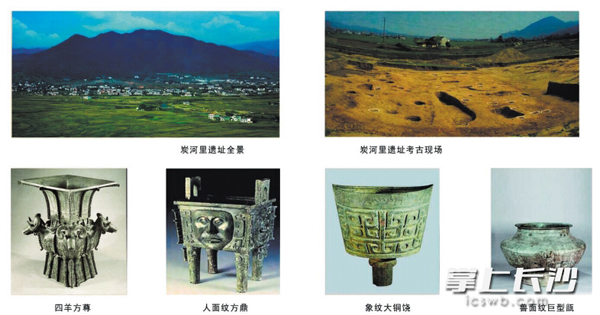 位于宁乡县黄材镇的炭河里国家考古遗址公园,一片热火朝天的施工景象。目前,公园标志性工程炭河里青铜文化博物馆工程主体已竣工,外墙装饰也已完成,内部正在进行布展设计和装修工程。
Tanheli National Archaeological Park, located in Ningxiang County, Changsha, has completed the main project Tanheli Bronze Cultural Museum and the exterior wall decoration at present.
5月26日,宁乡县炭河里遗址管理处主任文昊告诉记者,今年国庆节,青铜文化博物馆与炭河里国家考古遗址公园将一起对公众开放。
On Mayt 26, Wen Hao, Director of Tanheli Site Administration, said that, Tanheli Bronze Cultural Museum, together with Tanheli Archaeological Park would be opened to the public on the National Day 2016.
博物馆以四羊方尊为原型 游人将可看到国宝级文物
The Museum with Four Sheep Statue as the prototype Treasured cultural relics to be displayed
炭河里青铜文化博物馆是一座中型综合性博物馆,也是遗址公园的主展馆,该馆造型以四羊方尊为原型;在宁乡出土的300多件商周青铜器,将以原件或者复制件的方式,出现在青铜文化博物馆。届时,游人还能在此一睹国宝级文物的芳容,其中就包括目前发现的商代铜瓿中体型最大的兽面纹铜瓿。
The middle-sized comprehensive Tanheli Bronze Cultural Museum, the main exhibition hall of Tanheli Archaeological Park, takes Four Sheep Statue as the prototype. More than 300 bronze wares unearthed in Ningxiang County, will be displayed in the museum in the original or duplicated form, including the existing largest bronze vase of the Shang Dynasty with beast mask design.
宁乡县文物局局长李乔生说,届时会对"四羊方尊""人面纹方鼎""象纹大铜铙"等复制展出,让游客了解一个完整的"中国南方青铜文化中心"。
Li Qiaosheng, Head of Ningxiang County Cultural Relics Bureau, said that, there would be copies of treasured cultural relics displayed so that tourists could know about an integrated Southern China Bronze Cultural Center, including Four Sheep Statue, Quadripod with human face design, Cymbal with elephant cloudy image.