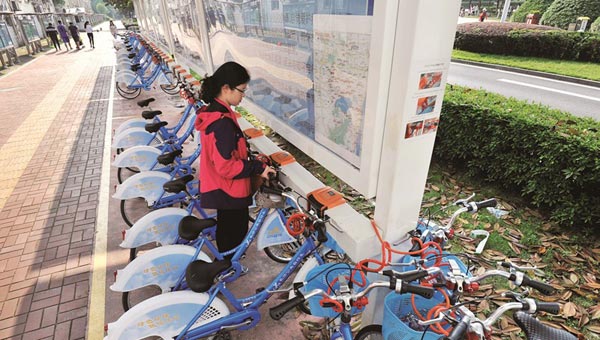 长沙市岳麓区咸嘉新村,一名市民到公共自行车站点还车。田超 摄
At Xianjia Xincun, Yuelu District, Changsha, an citizen is returning the bicycle.
(the photo by Tian Chao )
According to Lin Hongjun, Deputy General Manager of Changsha Yimin Public Bicycle Service Co., Ltd., in 2016, Changsha will additionally build 150 rental pilots, especially around schools, metro stations and large-size residential quarters, as well as 206km urban greenway; in 2-3 years, there will be 1,000 pilots and 20,000 bicycles built in Changsha's public bicycle system.
Since the launch of public bicycle rental pilot in 2015, Changsha has completed more than 150 pilots building, where nearly 4,000 bicycles are put into use and 14,000 rental cards are processed.
Original Link: 长沙今年将再建150个自行车租赁点 配套206公里绿道

长沙市益民公共自行车服务有限公司副总经理林鸿钧介绍,根据安排,长沙市今年还将再建租赁点150个,并侧重对学校、地铁站、大型居住小区的覆盖,并在今年内完成城市绿道建设超过206公里。同时计划用2至3年时间,建成总规模1000个站点、2万辆自行车及覆盖整个市区的公共自行车系统。
自2015年启动公共自行车租赁试点以来,长沙市已完成站点建设150余个,投放车辆近4000辆,办理自行车租赁卡超过1.4万张。