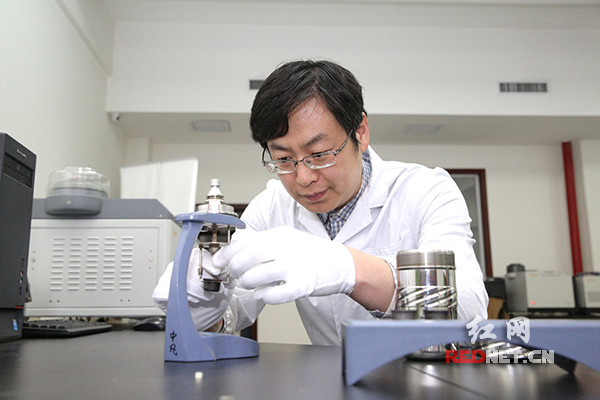 赵福刚正在进行煤质检测实验
Zhao Fugang is doing the coal quality detection test.

Rednet (Changsha): Changsha Kaiyuan Instruments Co., Ltd. has taken the lead in China's coal quality detection domain. In 2009, Zhao Fugang, a software engineer was employed by Kaiyuan Instruments, who has become "Tech Star" among members of the Communist Party in Changsha Economic and Technological Development Zone for his contributions in 5E-C5500 Calorimeter.
In 2012, based on Zhao Fugang's R&D and theoretical model, 5E-C5500 calorimeter was successfully put into operation. Thus Zhao Fugang was awarded the third prize for Changsha scientific and technological progress. 5E-C5500 calorimeter not only raises market shares of Kaiyuan Instruments by 50%, but also becomes high-end product among international similar products, which rapidly enhances domestic calorimeter's competitiveness in international coal quality detection markets.
In 2015, more than 70 5E-C5500 calorimeters were sold to overseas countries, such as Russia, Malaysia, North Korea, Vietnam, etc.
Original Link: 技术先锋赵福刚:"不安分"的沉默者
时刻新闻记者 易添麒 通讯员 黄姿 长沙报道
  
开元仪器是中国煤质检测领域的领头羊企业。2009年,这家企业新聘来一位软件工程师赵福刚,现已是长沙经开区共产党员中的"技术之星"。

2012年,由赵福刚参与研发、利用赵福刚理论模型的5E-C5500量热仪投产,该产品获长沙市科学技术进步三等奖,不仅逆势将开元仪器市场占有率提升到超过50%,还成为了国际市场同类产品中的高端产品,迅速提升了国产量热仪在国际煤质检测市场的竞争力。

2015年该产品在国外销量达到70多台,在俄罗斯、马来西亚、朝鲜、越南等煤炭高端检测实验室和能源机构都有应用。