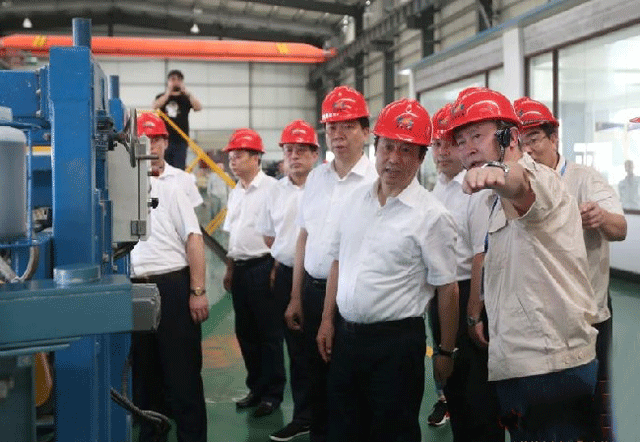 Hunan Governor Xu Dazhe visited Liling City, Lusong District, and Zhuzhou County of Zhuzhou City between August 26 and 27, 2017, to inspect transformation and upgrading progress. He called for giving full play to Zhuzhou's characteristics and advantages, implementing new development ideas, and taking the lead in transformation and upgrading, to set an exemplary example to the rest of the province.
  Hunan Provincial People's Government Secretary General Wang Qun accompanied him on the tour.
  Governor Xu visited Zhongzhou Fireworks Co., Ltd., Liquanyaoyi Ceramics Co., Ltd., and Kibing Glass Group in Liling City, to learn about local characteristic industry development and work safety. He studied Zhuzhou General Aviation Town planning and construction, "two major machines" (aircraft engine and gas turbine) special project implementation, and unmanned aerial vehicles (UAVs or drones) and general aviation operation in Lusong District. During his stay in Zhuzhou County, he investigated heavy metal pollution treatment project and agricultural planting structural adjustment and upgrading demonstration area of Sima Village, Nanzhou Town, and listened carefully to the project techniques, approaches, and achievements. He also inspected Nanzhou New Area standard plant and Zhuzhou Times New Material Technology Co., Ltd. (TMT) polyimide film production.
  On the evening of August 26, Xu held a symposium with heads of Zhuzhou municipal and county-level CPC committees and governments, industrial parks and zones, and high-tech enterprises, to discuss the transformation and upgrading conditions. He stated, "Zhuzhou is a traditional industrial base with solid industrial basis, convenient transportation, and regional advantages." He continued, saying, "We should face up to various difficulties and problems during the development path and change thinking mode when necessary, to win the transformation and upgrading 'battle' and fuel the prosperity of the city."