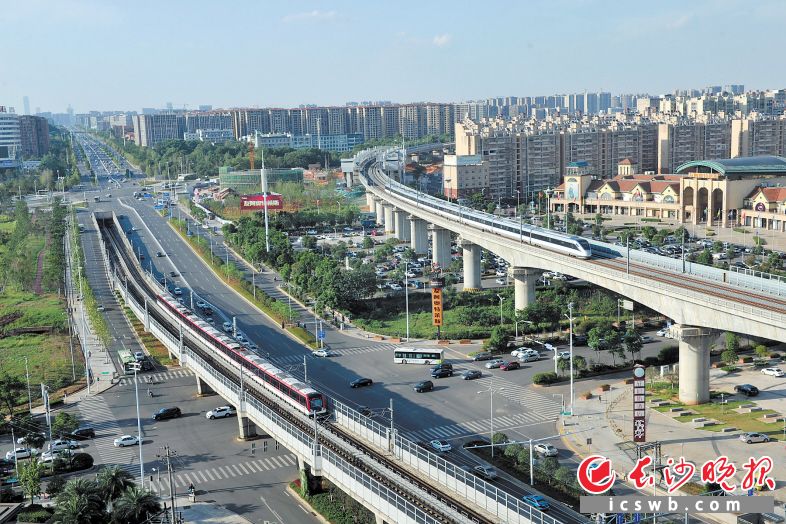 图为长沙中信新城站附近,长沙地铁1号线列车(左)和长株潭城铁列车并驾齐驱。
  The photo shows Zhongxin Xincheng stop of Changsha Subway, and the train of Changsha Subway Line 1 runs (left) with the train of Changsha-Zhuzhou-tan City Rail .
  以"轨道交通,改变世界"的主题2017中国(湖南)国际轨道交通产业博览会暨高峰论坛(以下简称"论坛")将于10月24日至27日在湖南举办,此次论坛首次由株洲和长沙两市联袂举办。
  Themed as "Rail transit, changing the world", 2017 China (Hunan) International Rail Transit Industry Exposition and Summit Forum will be held in both Changsha City and Zhuzhou city in Hunan Province from October 24 to 27th.
  目前,中国拥有世界上最大的轨道交通建设市场和完整的轨道交通装备制造体系。
  At present, China has the world's largest rail transit market and the complete manufacturing system of rail transportation equipment.
  株洲作为中国最大的轨道交通装备生产基地和出口基地,集聚轨道交通装备企业320多家,规模以上的企业达60余家,构建了从核心芯片、核心器件、到核心系统,再到整机系统集成以及人才、政策、资本及产业配套服务的完整产业生态链,是享誉世界的一张产业名片。
  Zhuzhou has the largest production base and exportation base for the production of rail transit equipment in China. It gathers more than 320 manufacturing enterprise for rail transit production, in which there are more than 60 enterprise of large scale, for producing the core chips, the core devices and the core systems by Hunan talents. The whole manufacturing industry of Hunan's developments on rail transit becomes the world-renowned one by the supporting industrial ecology chain, policies, the capital and the supporting service.
  根据本届轨博会组委会统计,目前已有30多个国家和地区,近百名国外官员和商人参会。近10个国家铁路总公司组团参加。其中伊拉克、巴基斯坦、塔吉克斯坦等多个国家将携订单赴会。
  According to the current statistics by the committee of the Expo, nearly hundreds of foreign officials and businessmen will attend the expo from more than 30 countries or regions and from 10 national Railway Corporation groups such as Iraq and Pakistan.
Link: 长沙"轨博会":让世界体验湖南"加速度"