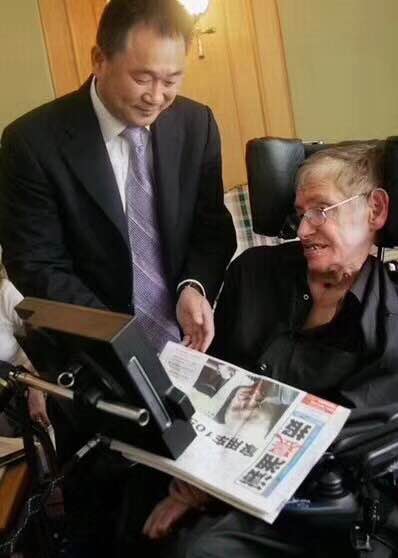 红网时刻3月14日讯(记者 张广蓉)"霍金的辞世,无疑是本世纪人类最重要的损失之一。"
  Rednet report: "Death of Stephen Hawking, great loss for mankind of this century" --Gong Shuguang.
  英国媒体报道,英国著名物理学家斯蒂芬·霍金14日在位于剑桥的家中去世,享年76岁。因一部《时间简史》跟霍金结下密切缘分,并在北京会见过霍金的湖南出版投资控股集团有限公司党委书记、董事长,中南出版传媒集团股份有限公司董事长龚曙光惊闻霍金去世,痛惜万分,写下一段文字表达自己的悲痛之情。
  British theoretical physicist Stephen Hawking died at the age of 76 on March 14, reported by the British media. Owing to A Brief History of Time, Gong Shuguang (Secretary of the Party Committee and Chairman of Hunan Publishing Investment Holding Group, and Chairman of China South Publishing & Media Group) has established close ties with Hawking and ever met Hawking in Beijing. Mr. Gong Shuguang sincerely mourned the death in words and poem.
  回忆起以前跟霍金见面的点点滴滴,龚曙光在文字里说:霍金那羸弱而坚韧的生命到底没能坚持得更长久,他的辞世,无疑是本世纪人类最重要的损失之一,因为即使在身体只有一个指头可以动弹的情况下,他仍在进行著述。十年前我在北京拜见他,他说在和女儿共同创作科普著作,还要写自传,不久这些著作都完成了,由我们出版了中文本。霍金先生不仅把自己的科学洞见留给了人类,而且用热爱科学,献身科学的精神感染了人类:不仅向人类展示了科学的严谨,而且向人类展示了科学的美丽。霍金先生是横跨两个世纪的伟大科学家,他的科学研究将深深影响人类,而他在科学普及上所做的创作,甚至会更深远地影响人类。
  "I wish Hawking's frail but tough life could last longer. No doubt, his death is a great loss for mankind of this century. Even with only one moving finger, he was still engaged in writing scholarly works. When I met him in Beijing ten years ago, he told me that he was co-authoring popular science books with his daughter and was writing his autobiography. We published his completed autobiography in Chinese edition later. Hawking not only leaves his scientific insights to mankind, but also passes his spirit of devotion to science to mankind. He reveals both preciseness and charm of science. Spanning two centuries, great scientist Hawking has exerted profound influence to mankind by his scientific study and creation."Gong Shuguang recalled moments with Hawking and expressed his respect to Hawking.
  《时间简史》的出版,让霍金这位英国著名物理学家和湖南出版界结下了不解之缘。出版该书的湖南科学技术出版社因此被称为"在国内首激科学人文冲击波"。后来又因买断霍金全部著作的内地中文版权,被业界赞为有胆有识的"大手笔"。
  A Brief History of Time in Chinese edition, was published by Hunan Science & Technology Press (a subsidiary of China South Publishing & Media Group), which plays a role in close ties between Hawking and Hunan publishing. Remarkably, Hunan Science & Technology Press afterwards bought rights to Chinese edition of Hawking's all works in Mainland China.
  2006年6月21日,时任湖南出版投资控股集团副董事长、常务副总经理、潇湘晨报社社长的龚曙光,在北京友谊宾馆会见了霍金。会见中,龚曙光感谢霍金对湖南出版投资控股集团多年的支持和帮助,介绍了由集团所属湖南科技出版社出版的霍金著作中文版的出版和销售情况,表达了中国读者对其学术的关注和对他个人的崇敬。龚曙光还向霍金赠送了一套特制的"中国红"瓷瓶,并送上《潇湘晨报》关于他的报道。
  Gong Shuguang met Hawking in Beijing on June 21, 2006. Gong Shuguang served as Vice-chairman and Executive Deputy General Manager of Hunan Publishing Investment Holding Groupand Head of Xiaoxiang Morning News then. Gong Shuguang thanked Hawking for his support to Hunan Publishing Investment Holding Groupfor years, and described publishing sales of Hawking's works in Chinese edition, and also expressed Chinese readers' academic attention and respect to him. In addition, Gong Shuguang gave a tailor-made Chinese-red porcelain bottle to Hawking as a gift and presented report about Hawking released on Xiaoxiang Morning News to him.
  对于这次会面,龚曙光今年在为《第一推动丛书》25周年纪念版撰写序言时写道:"我曾有幸采访《时间简史》的作者史蒂芬·霍金,他痛苦地斜躺在轮椅上,用特制的语音器和我交谈。聆听着由他按击出的极其单调的金属般的音符,我确信,那个只留下萎缩的躯干和游丝一般生命气息的智者就是先知,就是人类的孤独使者。"
  In the preface of The First Mover (25 anniversary edition), Gong Shuguang depicted his meeting with Hawking like this, "I ever interviewed with Stephen Hawking, author of A Brief History of Time. He reclined painfully on his wheelchair and talked with me through a voice synthesizer. Listening to his quite monotonous metallike notes, I really believed that this wise wan is the Prophet and solitary emissary of mankind, in spite of his body atrophy and weak breath. "
  龚曙光说,倘若不是亲眼所见,你根本无法相信,那些深奥到极致而又浅白到极致,简练到极致而又美丽到极致的"天书",竟是他蜷缩在轮椅上,用唯一能够动弹的手指,一个语音一个语音按击出来的。
  "Unless with my own eyes, I couldn't believe those notes were pressed and clicked out one by one by him with his only one moving finger in a wheelchair", recalled by Gong Shuguang.
  饱含对霍金的敬意,龚曙光还写下了一首诗《活着的另一种方式——致霍金》,痛挽他的离去。
  Mourning his death, Gong Shuguang also wrote a poem Ode to Stephen Hawking: Alive in Another Way.
  活着的另一种方式
  一一致霍金
  *龚曙光
  你走了吗?
  真的走了吗?
  我一直相信,
  你是不会走的!
  十年前,
  我见到的你,
  已是一尊神像。
  瘦小僵硬的躯干,
  早就卸载了世俗的生命。
  你只留下一只手指动弹,
  用单调得不能再单调的声音,
  传达你的思想……
  你命悬一线,
  我却没有在你的脸上,
  看到一丝苦难和恐惧。
  你仿佛
  坐在另外一个世界,
  和霭地俯视着我,
  还有人类,
  如同俯视一个孩子。
  是你让我相信,
  生命
  还有另一种活着的方式,
  那便是
  思想!
  你让生命僵化为一尊雕像,
  如同木头,
  如同泥胎,
  你只是为了使自己,
  永远活在思想里。
  于是,
  我看到你的躯干,
  是一团耀眼的光焰;
  我听到你按击的声音,
  是一曲遥远的天籁。
  你用天籁和我招呼:
  "很高兴见到你!"
  如同上帝招呼人类。
  我曾想问,
  假如有一天你离我们而去,
  你会对人类说点什么?
  然而我又坚信,
  你是不会离去的!
  或者,
  你原本不属于这个星球,
  你远远地到来,
  只是为了告诉我们:
  世界,
  远比我们想象的空间更大;
  生命,
  远比我们活着的方式更美……
  你真的走了吗?
  就这样扔下我们!
  如同一团光焰,
  在大地上寂灭?
  如同一曲天籁,
  在天空中消逝?
  Full text of Ode to Stephen Hawking: Alive in Another Way as below:
  Ode to Stephen Hawking:
  Alive in Another Way
  By Gong Shuguang
  You are away?
  From us forever?
  I always believe
  You will stay alive!
  Ten years ago,
  I met you.
  You were an idol.
  Your slight stiff body,
  Transcended secular life long ago.
  You just had only one moving finger,
  In most monotonous sounds,
  To convey your ideas…
  You put your life on the line.
  But on your face,
  I saw no hint of bitterness or fear.
  You, as if
  Sitting in another world,
  Looked down at me genially,
  Mankind as well,
  Like overlooking the child.
  It's you that,
  Make me believe,
  Life can be alive in another way.
  That is
  Thought!
  Though, your life was rigid as a statue,
  Like a piece of wood,
  Like an unpainted clay idol,
  You just made yourself
  Alive in thought for ever.
  And thus,
  I saw your body,
  As a bright flame.
  I heard your clicked sound,
  As a remote sound of nature.
  Like this, you greeted me:
  "Nice to meet you!"
  In a godlike way.
  I ever wanted to ask,
  If you left us one day,
  What would you tell to mankind?
  Yet indeed, I firmly believe
  You would never go away!
  Or perhaps,
  You were originally not belonged to the Earth.
  You came from afar,
  To just tell us,
  That the world
  Is far bigger than our imaginative space;
  And life
  Is far more beautiful than our living ways…
  You are really gone?
  Leave us alone!
  You, as if a burning flame
  Keep Quietus on the earth?
  As if a music of natural sound,
  Fade into the sky?
翻译:张焕勤