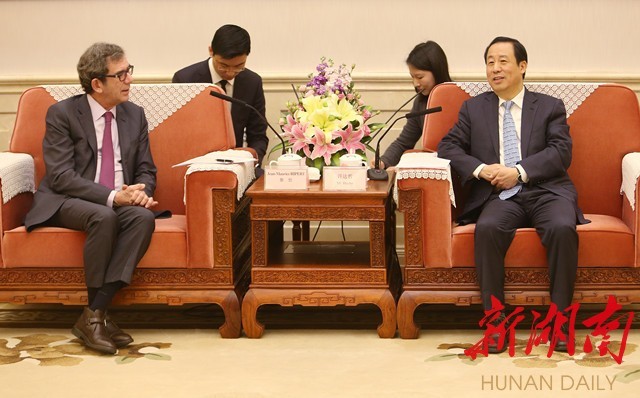 On March 27, 2018, Hunan Governor Xu Dazhe met in Changsha with French Ambassador to China Jean-Maurice Ripert and French Consul General in Wuhan Olivier Guyonvarch. Vice Governor Wu Guiying and Secretary General Wang Qun also attended.
  Governor Xu welcomed the guests and briefed on Hunan's economic and social development. He believed that based on the foundation of comprehensive strategic partnership between China and France, Hunan and France boasted great cooperative potential. He said, "Hunan is a major emerging industrial power and has strong capabilities in engineering machinery, rail transit, high-speed rail power control, and small and medium aero engines. France is one of the most developed industrial countries and the center of world culture and art. It also receives the most tourists worldwide. Its advanced experiences are worth learning from." He continued, "We expect that Mr. Jean-Maurice Ripert's visit to Hunan will be an opportunity to push mutual exchange and cooperation to a higher level. We are looking forward to achieving more fruitful results in such fields as trade and investment, eco-environmental protection, scientific and technological innovation, cultural tourism, and sister cities establishment.
  Ambassador Ripert remarked that Hunan has profound economic potential and cultural heritage. "Hunan and France have many converging points in cooperation. We hope that both sides will further give play to their advantages on the existing basis, increase mutual trust, expand exchanges, and strengthen collaboration in such fields as health and elderly caring, characteristic tourism, and ecological environmental protection, to create a favorable environment for common benefits and win-win results," he added.