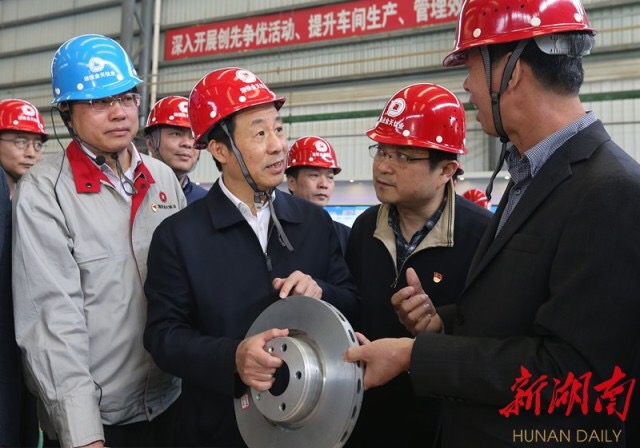 Hunan Governor Xu Dazhe visited Dingcheng District, Linli County, Lixian County, Jinshi City, and Anxiang County of Changde City on April 9 and 10, 2018, to inspect work on better promotion of high quality development and fighting against three tough battles of preventing and defusing financial risks, targeted poverty alleviation, and pollution control. Secretary General Wang Qun accompanied him on the inspection tour.
  He said, "We must thoroughly comprehend the Xi Jinping Thought on Socialism with Chinese Characteristics for a New Era, take a correct attitude towards development, and apply new development concepts into our work." He continued, "We should strive to take the lead in ecological civilization construction and targeted poverty alleviation, and firmly hold on to the bottom line of preventing systematic risks, so as to play a greater supporting role for the provincial economic and social development."
  During the tour in Changde, Governor Xu visited ten Changde enterprises to learn about their operating revenue, R&D, debt, equity and other conditions. He noted that it's important for the enterprises to closely connect with the market, strengthen energy conservation and technological transformation, and improve quality and efficiency through innovation. In particular, military-related companies should stick to their technological advantages to further expand civilian application market, to achieve better development.