Changsha, capital of Hunan province, was granted an honorary plaque for being a City of Media Arts at the opening ceremony of the 2018 Changsha International Media Culture Festival, which was held on May 21 at Meixihu International Culture and Art Center.
  Executive vice mayor of Changsha Shu Xinggang received the award from Lee Byong-hyun, chairperson of UN Educational, Scientific and Cultural Organization (UNESCO)'s Executive Board.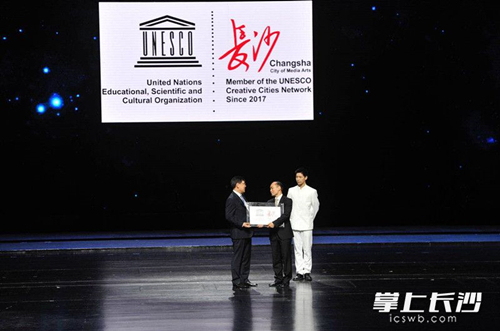 Changsha joined the Creative Cities Network launched by the UNESCO while also being recognized as a City of Media Arts in Paris in November 2017, making it the first Chinese city awarded with the UNESCO title.
  The title affirms Changsha's recent years of vigorous efforts in developing the culture, arts, media and creativity industries.
  At the opening ceremony, representatives from cities awarded the same title -- Lyon in France, York in the United Kingdom, Austin in the United States and Tel Aviv in Israel united in the central Chinese city to set up an alliance, to further boost international communications and cooperation in terms of cultural creativity and the media arts.