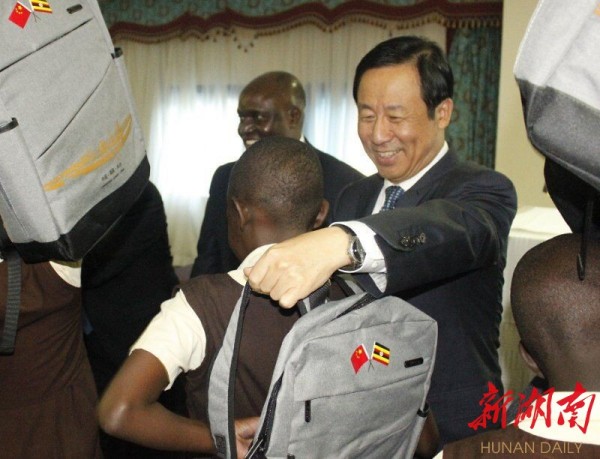 Hunan Governor Xu Dazhe led a delegation to visit Uganda between June 21 and 22, 2018. He met with Ugandan President Yoweri Museveni and Prime Minister Ruhakana Rugunda respectively. Governor Xu and Prime Minister Rugunda attended a number of exchange activities including Hunan-Uganda Cooperation Bilateral Meeting and Investment and Trade Promotion Conference. They also witnessed the signing of the Memorandum of Understanding on Economic and Trade Cooperation between the Hunan Provincial People's Government and the Ministry of Finance, Planning and Economic Development of Uganda.
  Xu Dazhe said, "Hunan and Uganda share long-lasting friendship, and we come for cooperation and partnership. We will implement the 'Belt and Road' initiative and the innovation-oriented opening up strategy, to promote wider, deeper, and higher levels of opening up. We will make Hunan an open highland in inland China, and work hard to seize essential factors and decisive opportunities to gain advantages." He continued, "Both sides bear sound foundation for exchanges and collaboration. We hope the two sides will further promote bilateral pragmatic cooperation in the areas of agriculture, mining, tourism, and infrastructure, and improve the quality and level of economic and trade cooperation."
  Ugandan President Museveni expressed his warm welcome to guests from Chairman Mao Zedong's hometown. He said that Uganda has a good foundation for agricultural development and rich copper resources. He expected to use Hunan's advanced agriculture, mineral smelting technology, and engineering machinery industry to improve the quality and efficiency of Uganda's related industries. Prime Minister Ruhakana Rugunda hoped to adopt Hunan's technology and investment to strengthen cooperation in the fields of agriculture, tourism, mineral development, and energy and electricity, so as to achieve win-win results.
  Ambassador of the Republic of Uganda to the People's Republic of China Kiyonga and his counterpart Zheng Zhuqiang attended related activities. Hunan Provincial People's Government Secretary General Wang Qun, and heads of relevant departments of the Hunan provincial people's government and Changsha Municipal People's Government attended the meetings.