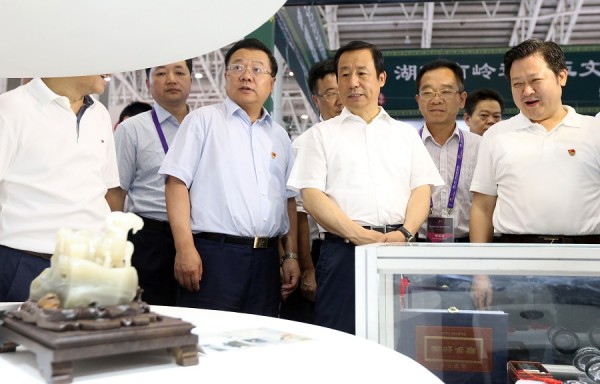 On the morning of May 19, Deputy Secretary of the CPC Hunan Provincial Committee and Hunan Governor Xu Dazhe inspected the core exhibition area at the 6th China (Hunan) International Mineral &Gem Expo. During his inspection tour here, he emphasized that it's important for us to take the "Mineral &Gem Expo " as a bridge, continue to deepen international exchanges and cooperation in related fields, constantly upgrade the level of opening up, and promote high-quality development.
  CPPCC Hunan Provincial Committee Vice Chairman Yi Pengfei and Secretary General Wang Qun, also attended.
  The exhibition area covers a total area of 120,000 sqm. More than 2,800 booths have been located in 9 major areas at the Chenzhou International Convention Center. More than 1,000 enterprises and businesses, including 350-odd international exhibitors from over 50 countries and regions, have participated in the Expo. Governor Xu was told that after fiver year's development, it has become the world's third largest and Asia's largest mineral and gem exposition. He urged that efforts should be made to constantly improve the level of the Expo, in a bid to make it an internationally renowned high-quality Expo, which will fully display to the world the unique charm of Hunan as "the Hometown of Nonferrous Metals" and Chenzhou as " the Mineral Capital ".
  Such rare mineral and gem treasures as largest single crystal Bournonite ever found in the world today, the world's most complete mummified dinosaur fossil "Leonardo", the largest golden yellow molybdenum from home and abroad will attract large amounts of visitors. Xu told the organizer to ensure a safe and orderly visit.
  When visiting an exhibition area on Hunan Province's natural resources, he was attracted by a booth that introduces e-commerce platform for agricultural products from Suxian District of Chenzhou City. He was learned that the monthly sales of it has exceeded 3 million CNY. It has helped many poverty-stricken households find consumers of their agricultural products. Xu encouraged the platform team to keep making excellent and wide services to help strengthen the integrated development of the primary, secondary and tertiary industries, and to make contributions for Hunan's targeted poverty alleviation.
  Xu was also interested in about the International Mineral and Gem Commercial Street, which is an innovation of this year's Expo. Many international businessmen from countries such as the US, India, Pakistan and Morocco have already rented shops and opened their businesses here. After hearing about the operation situation of a Pakistani businessman, he said that he hoped these international businessmen may introduce back to their homes about Hunan's advantages and potentials of development and he expected more international businessmen will invest in Hunan.