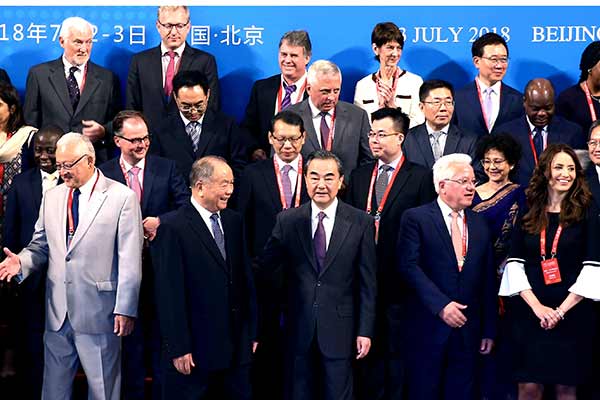 China will work to refine the legal support system of the Belt and Road to enable better settlement of disputes and foster a business environment governed by the rule of law, State Councilor and Foreign Minister Wang Yi said on Monday.
  A dispute settlement mechanism featuring lawsuits, arbitration and mediation will be established at an early date, Wang said at the opening of the Forum on Belt and Road Legal Cooperation in Beijing.
  A security network of treaties should be established to fit into the development of the Belt and Road, with efforts made to fill blank areas and update relevant treaties, he said.
  "Regulations and the rule of law provide the green light for the Belt and Road to go global, as well as the safety valve to cope with different types of uncertain risks and challenges," he said.
  China has always respected international law as well as national laws in its cooperation with different nations. The country is expediting the signing of agreements in trade, investment, finance, taxation, intellectual property rights, transportation and environmental protection with different nations to develop a Belt and Road network of regulations and the rule of law, he said.
  An information sharing and big data service platform on legal issues involving the Belt and Road will be established to enable better legal consultation services.
  The Ministry of Foreign Affairs is working on a national treaty database to improve access to the information, he said.
  Beijing has decided to fund a research and study program for Belt and Road legal cooperation to further exchanges and cooperation, Wang said.
  He said that five years since it was proposed by President Xi Jinping in 2013, the Belt and Road Initiative has seen very fruitful early outcomes.
  China has signed cooperative agreements with close to 90 countries and international organizations on jointly building the Belt and Road, Wang said.
  China's investment in the involved countries has exceeded $70 billion, with more than 200,000 jobs created, he added.
  "There are only win-win or multiwin outcomes, rather than sole beneficiaries," he said.
  Liu Zhenmin, under-secretary-general for economic and social affairs at the United Nations, said the initiative could be an opportunity to further harmonize legal systems related to foreign investment treatment and dispute settlements, strengthening multilateral systems and boosting implementation of Article 33 of the UN Charter on the dispute settlement.
  Douglas Flint, the UK Treasury's Belt and Road envoy, said that clarity and legal certainty will be crucial components for Belt and Road projects to promote the flow of international capital.
  Belt and Road projects are becoming increasingly multinational, thus providing requirements for contract frameworks that are widely accepted, clear and flexible, he said.