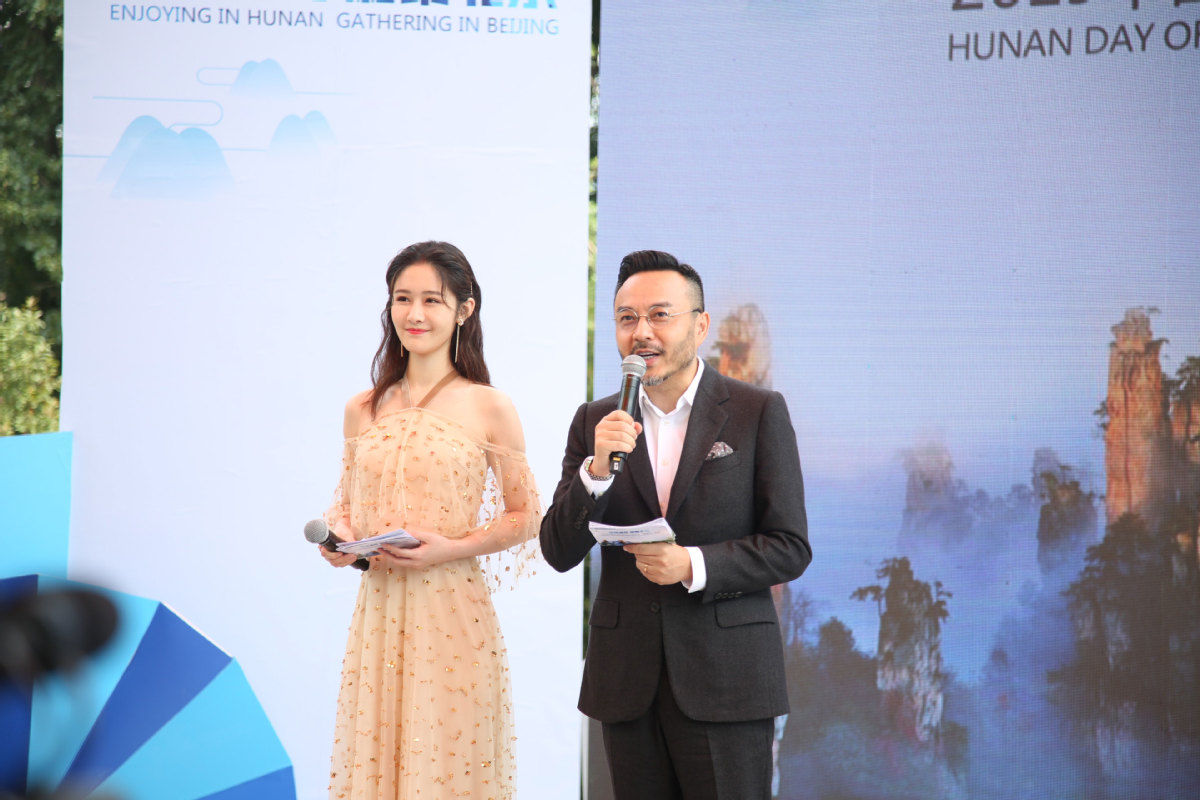 Hunan province opened its three-day Hunan Day on Sunday to promote the idea of green development at the ongoing International Horticultural Exhibition in Beijing. [Photo provided to chinadaily.com.cn]
  Central China's Hunan province is showcasing its unique ecological features and agricultural resources at the ongoing International Horticultural Exhibition in Beijing.
  The province is celebrating a three-day "Hunan Day" from Sunday to Tuesday to promote the idea of green development.
  Hunan is home to many great figures in Chinese history, such as Chairman Mao, "father of hybrid rice" Yuan Longping and Zeng Guofan, a senior official and military general of the late Qing Dynasty (1644-1911).
  It also has major scenic spots, including Dongting Lake, the second-largest freshwater lake in China, Zhangjiajie, a picturesque tourist spot which inspired the scenery in James Cameron's blockbuster movie Avatar, and Hengshan Mountain, one of the five most renowned mountains in China.
  Li Chunliang, deputy director of the National Forestry and Grassland Administration, said at the Hunan Day opening ceremony that the province plays an important role in ecological protection in central China, and has made great effort in protecting forests, promoting afforestation and developing green industries.
  The forest coverage rate of Hunan reached 59.82 percent by the end of 2018, according to Li.
  Chen Wenhao, vice-governor of Hunan province, said the International Horticultural Exhibition is an important platform to promote ecological exchanges among different regions.
  "We expect to display achievements Hunan has made in ecological protection, and promote the idea of harmonious co-existence between human and nature at the event," he added.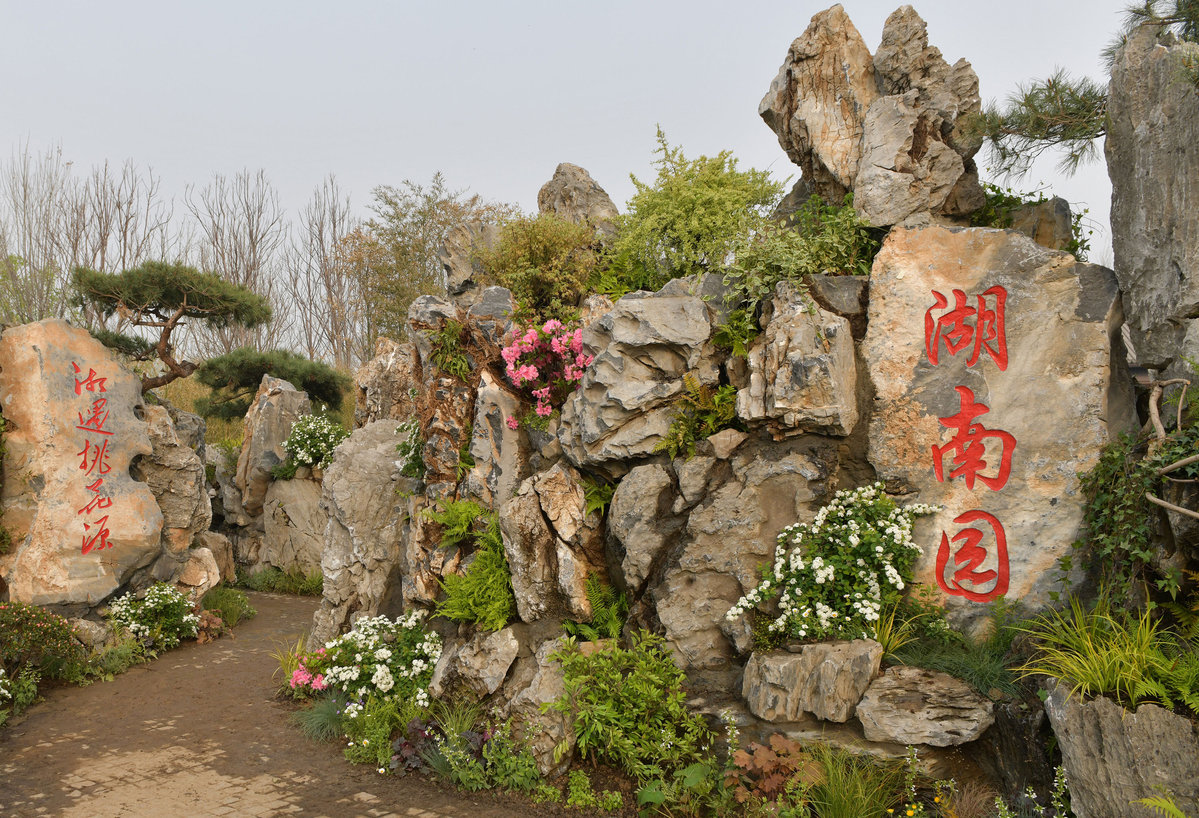 The Hunan exhibition garden looks like a mini mysterious village hidden in a deep mountain. [Photo provided to chinadaily.com.cn]
  The Hunan exhibition garden, with an area of 2,450 square meters, was designed like a miniature village hidden in a deep mountain, where the mist-covered pond, grasslands, farmland and wooden houses are merged into one poetic picture.
  Hu Changqing, director of Hunan's Forestry Department, said it also brought more than 160 categories of flowers, as well as new plants developed by local research institutes, such as colorful pepper, super hybrid rice and chrysanthemum-like peaches.
  The unique cultural products of Hunan are also on display in the garden, including Hunan embroidery, sand painting and nvshu (women's script), a rare Chinese syllabic script used exclusively among women originating in Jiangyong county.
  The award-wining bonsai and orchid are also being exhibited at the Hunan pavilion. Local agricultural products, such as tea, tea oil and selenium-rich food are also on display.
  "I'm very impressed by the presence of nature, water and forest in the province," said Philippe Pypaert, program specialist for natural science at the UNESCO Beijing office while visiting the Hunan exhibition garden.
  "Any expo is a great opportunity to promote particular regions and their products. In the case of Hunan, it's very much related to nature," he said.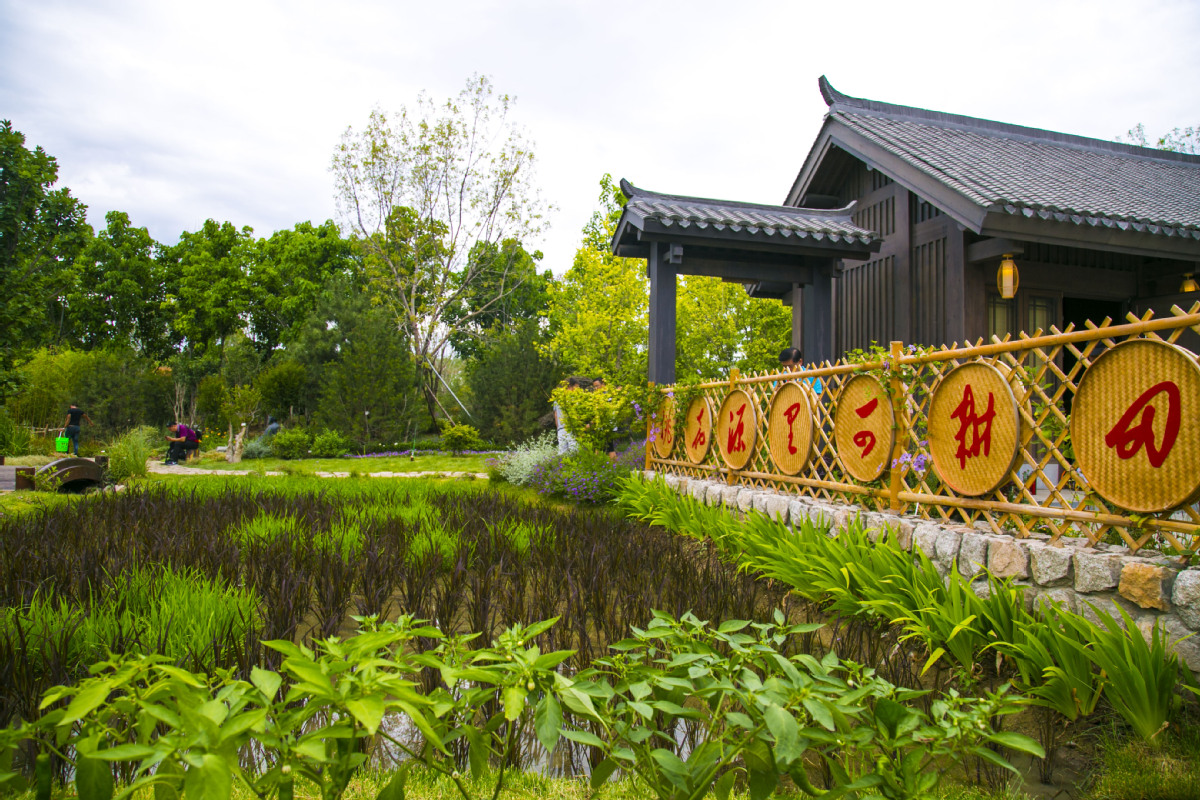 The Hunan exhibition garden looks like a mini mysterious village hidden in a deep mountain. [Photo provided to chinadaily.com.cn]
  The Hunan exhibition garden looks like a mini mysterious village hidden in a deep mountain. [Photo provided to chinadaily.com.cn]