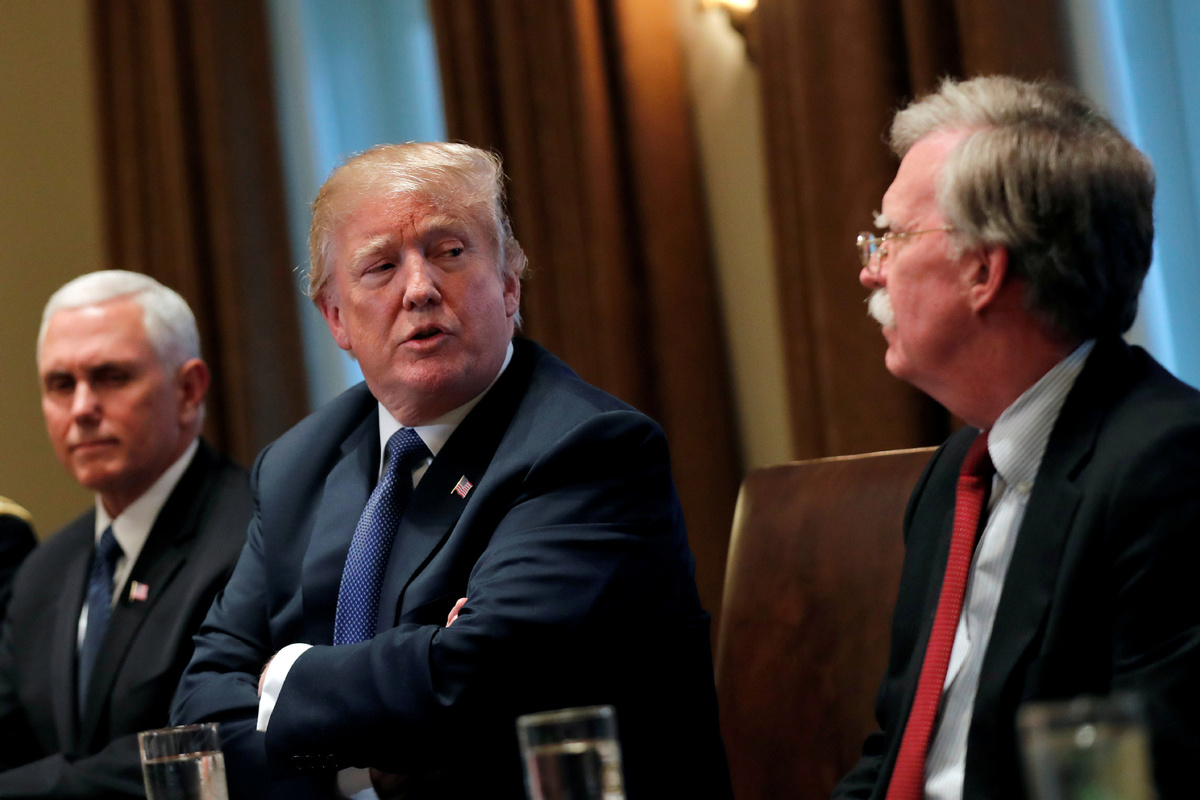 US President Donald Trump receives a briefing from senior military leadership accompanied by National Security Adviser John Bolton (Right) in Washington, DC, US April 9, 2018. [Photo/Agencies] 
  The broad outlines of US foreign policy are unlikely to change following the abrupt departure of John Bolton, the third national security adviser to leave the White House post in three years, analysts and officials have said.
  US President Donald Trump announced Tuesday that he had fired Bolton amid "strong" disagreement with the man he tapped 17 months ago to replace H.R. McMaster, who was brought in after Trump's first national security adviser, Michael Flynn, was ousted after less than one month in office.
  "I informed John Bolton last night that his services are no longer needed at the White House," the president tweeted. "I disagreed strongly with many of his suggestions, as did others in the Administration, and therefore I asked John for his resignation, which was given to me this morning. I thank John very much for his service."
  Bolton offered an opposing account on his departure, saying on his own Twitter account moments after the president's post that "I offered to resign last night and President Trump said, 'Let's talk about it tomorrow.'"
  Trump said he would name Bolton's successor next week. The White House said Charles Kupperman, the deputy national security adviser, would fill Bolton's role on an acting basis.
  Just an hour before the president's tweet, the media corps in Washington had received an update from the White House press office that Bolton would join Secretary of State Mike Pompeo and Treasury Secretary Steven Mnuchin in the afternoon for a briefing on an executive order expanding ways to counter terrorism.
  "I don't think any leader around the world should make any assumption that because some one of us departs, that President Trump's foreign policy will change in a material way," Pompeo said at the news conference, where Bolton was absent.
  Asked if Bolton's departure would make it easier for him to do his job and for the administration to implement the president's foreign policy agenda, Pompeo said, "I don't talk about the inner workings of how this all goes. There were many times Ambassador Bolton and I disagreed; that's to be sure. But that's true for lots of people with whom I interact."
  Mnuchin also said the president's view of the Iraq war and Bolton's was "very different".
  Cal Jillson, a political scientist, and historian at Southern Methodist University in Dallas, said Bolton's influence had been declining for some time, even as, or perhaps because, Pompeo's influence had been rising.
  "Bolton and Pompeo did not differ greatly on policy, but Bolton's more aggressive and uncompromising personality likely came to grate on President Trump," Jillson said.
  The New York Times also reported Tuesday that the rift between the president and his national security adviser "owed as much to personality as to policy".
  A former under-secretary of state and ambassador to the United Nations under President George W. Bush, Bolton had been a foreign policy hawk who had fundamental disagreements with the president on Iran, Afghanistan and a slew of other global challenges, The Associated Press reported Tuesday.
  But even with Bolton sidelined, "the broad outlines of American foreign policy are not likely to change much. Pompeo will continue to take great care to be seen as faithfully implementing Trump's policies rather than be seen as resisting or even steering them," Jillson told China Daily.
  He said Bolton saw rebalancing the China-US economic relationship as a "critical" foreign policy issue, which will not change in the wake of Bolton's dismissal.
  "President Trump's principal requirement for his next national security adviser will be that he or she agree with him on most, ideally all, major issues," Jillson said.
  Pompeo also said the president is entitled to the staff that he wants at any moment.
  Stanley Renshon, a political science professor at the City University of New York, said Tuesday's sudden shake-up was just one more of many illustrations that Trump is a "demanding boss" who is not afraid to make changes.
  "I think he is still searching for the right foreign policy adviser mix," Renshon told China Daily.
  The succcessor could be someone on the "tough" end of the policy options scale, but someone who can be creative and thoughtful within one's own framework, he said.
  "It has been brewing for a while, and Bolton is too ready to use American force if he feels it necessary. Trump, for all his verbal bluster, is cautious on that score," Renshon added.