The Liaowang Institute, a Xinhua News Agencythink tank, and Tencent released the 2020 Report on the Influence of Chinese Cities' Nighttime Economy on April 24. They also announced China's top 10 cities with the most influential night economies, and China's innovative cities and cases in this regard. Changsha was third among the top 10 cities.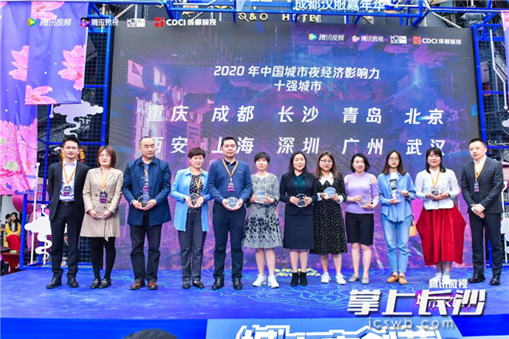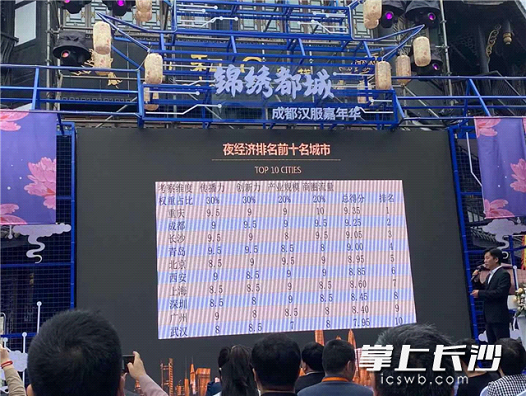 Changsha's nighttime economy is unprecedented in scale. It achieves fruitful results.
For 95 days from July 26, 2020, 295 themed activities have been organized in Changsha to promote consumption. Governments at all levels invested more than 100 million yuan, and enterprises persisted in interest concession for over 1 billion yuan. Nearly 13,000 business owners were directly involved. Shopping malls received 138 million customer visits, up 19.28% year-on-year, and the total business turnover reached 27.97 billion yuan, up 20.45%. Both the customer flow and sales have been improved. This has greatly unleashed the potential of Changsha's nighttime economy, and fully demonstrated its charm in this aspect.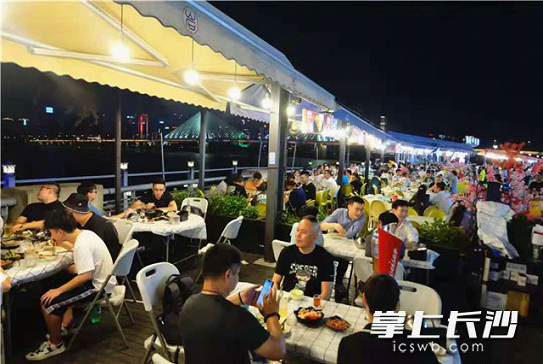 Fisherman's Wharf -- an ideal place for night snacks in Changsha.
Nighttime economy becomes a new Changsha business model.
Even by 10 p.m., nearly half of Changsha take-away merchants are still doing business online, and there are still many pedestrians watching live-streaming on the streets, and still many others taking a touring boat, visiting fairs, snacking, bar hopping, listening to crosstalk, and watching dramas.
The nighttime economy includes food, travel, shopping, entertainment, sports, exhibitions, and street performances. We will find that there are many changes in terms of consumers, consumption type, consumers' expectation, and consumption environment. The nighttime economy has become a new business model in Changsha, and also added color to the city's title as an internet-famous city.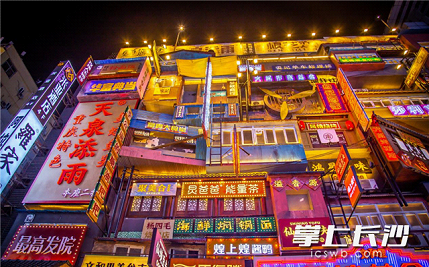 The food court is ablaze with lights at night.
Changsha's nighttime economy continues to improve.
As a new first-tier city, Changsha is catching up with other first-tier cities in nighttime economic activities. Late-night consumption becomes quite normal. The number of 24-hour bookstores, restaurants and convenience stores has increased. Cinemas, KTV, Internet cafes and bars have become popular. "Integrated cultural tourism consumption" business forms emerge and promote each other. Mini-singing booths, electronic music bars, hotels with themes, and rural B&Bs are popular among young people.
Since the epidemic situation had stabilized, Changsha's Wuyi business district ranked second in terms of number of visitors, among the core business circles of 11 Chinese cities including Shanghai, Shenzhen, Hangzhou, Changsha, and Chengdu.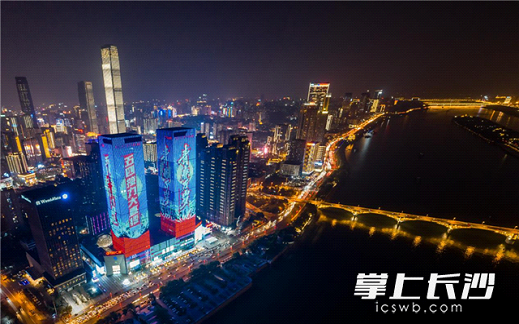 The night scene along the Xiangjiang.
Source: en.changsha.gov.cn